Leadership and Governance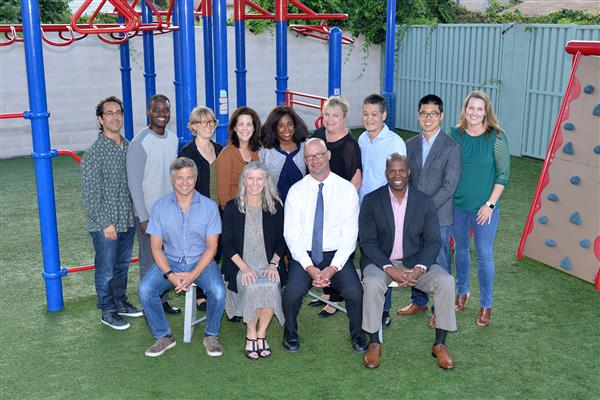 Peggy Procter, Head of School
Peggy has over 25 years of experience as an educator, having worked in schools internationally and in the United States. Most recently, she served as Dean of Students and Spanish Teacher at La Jolla Country Day School and as Director of Upper School and Global Studies Teacher at Windward School. At Windward, she spearheaded the Global Education, Writing and Rhetoric Across the Curriculum, Academic Integrity, and Challenge Success initiatives. Peggy is passionate about girls and women's empowerment and leadership and serves as a facilitator for the CATDC Women Rising program for aspiring female leaders. Outside of work, Peggy is an avid reader, traveler, chocoholic, and nature lover, and there is nothing she loves more than hiking and camping with her husband John and her daughter Sidney. Peggy was born in Chicago, spent most of her childhood and adolescence in New England, and has called California home for the past 20+ years. She holds her BA from Dartmouth College in Spanish and Government and an MA in Spanish from Middlebury College in Madrid.
Roger Bridges, Assistant Head: Director of Counseling, Community Engagement, & Inclusivity
Roger hails from the South, having been raised in Mississippi, before heading to the West Coast for college and graduate school. He has worked with youth and families in non-profit organizations and independent schools. Prior to coming to Echo Horizon School, Roger served as Associate Director of Diversity & Inclusivity & Upper School Counselor at Windward School and as Associate Director of Counseling at The Branson School. Roger has nine years of experience as the Program Director/Consultant for a community-based educational outreach program, serving at-risk youth and is the Co-Founder/Co-Director of the Empowerment & Engagement Coalition Conference for African American Boys in Independent Schools. He has served as a facilitator and motivational speaker for schools and community based organizations, including The Bill & Melinda Gates Leadership Institute, PACT Adopt, St. Lawrence of Brindisi School, and St. Monica's High School.


He also spent some time as a professional actor for live theater, film, and television. He has continued his artistic endeavors as a filmmaker. Roger's latest film Pebbles, Ripples and Waves is a documentary about the life of director Gordon Hunt (Oscar winner Helen Hunt's father) that is set to release later this year. He is a passionate sports fan and athlete and possesses a deep appreciation for the arts (dance, theater, music). He and his wife Caroline are the proud parents of twin daughters Brees and Amaya and are expecting a baby boy in September.
Meg Baltazar, Interim Director of Curriculum and 6th Grade Humanities Teacher
Meg Baltazar began working at Echo Horizon in 2012 and is the Interim Director of Curriculum and 6th Grade Humanities Teacher. Meg has a BA in Political Science with a minor in Education from San Diego State University, and a Master's Degree in Education from Alliant University. She has previously taught both 6th and 8th grade and has served as an After School Program Director at other schools throughout California. Meg is also a UCLA Extension Program Professor and Support Provider. She was born in Long Beach and raised in Northridge. She is married, has a beautiful little girl, Faith, and sweet Frenchie named Riggins. She loves to cook, read, travel, and watch football, Go Chargers! Meg loves working at Echo Horizon because when she comes to work every day, she is surrounded by passionate, dedicated, and inspirational educators. The warmth here is palpable, and she feels lucky to be a part of such a special community.
Abeni Bias, Director of Admission
Abeni Bias holds nearly 10 years of Admission experience working in independent schools. Before Echo Horizon, Abeni was the Assistant Director of Admission and 9th Grade Advisor at The Buckley School. There she was instrumental in outreach and increasing enrollment at the school. She also helped and advised current 9th grade students through their first year of upper school.

A graduate of UC Santa Cruz with a B.A. in Sociology and Cal State Fullerton, with an M.A. in Sociology, she began her career as a high school teacher. She recognized that she enjoyed working with students but not in the classroom setting. Once she began her career in admission, she realized that she was in the right place. Not only did she enjoy getting to know each prospective family, but also found it was fulfilling to admit students and watch them flourish at that school.

As Enrollment Manager, it is a priority to guide each prospective family through the admission process and to make it an enjoyable learning experience.
Ashley Kachelmeyer, Interim Director of Echo Center
Ashley began working at Echo Horizon School in 2015 as a 4th grade DHH co-teacher. Prior to relocating to Los Angeles from Massachusetts where she was born and raised, Ashley worked at Clarke Schools for hearing and Speech in Northampton, MA as a Mainstream teacher of the deaf. While at Clarke, she coordinated Clarke's first ever inclusive high school mainstream program for students with hearing loss. Ashley has also been directing Clarke's summer adventure two week residential program since 2011. Ashley has a bachelors degree in early childhood education from Westfield State University and a Masters degree in deaf education from Smith College. Ashley enjoys working at Echo Horizon school because of the joy she sees in the students who are learning and the commitment to best teaching practices she sees in the dedicated professionals who guide those joyful children each day.

Ashley has presented for Clarke Mainstreams annual conference (2014, 2017) on the impacts of hearing loss on social skills and relationships. Ashley presented at the AG Bell Convention in 2014 at Walt Disney World as well. This past summer, Ashley moved to Newport Beach with her soon to be husband and her dog Luna. She also spent two weeks traveling through Thailand and Vietnam taking cooking classes and caring for rescued elephants!
Maggie Raiken, Marketing & Development Manager
Maggie Raiken, a Culver City native, has over 8 years of experience working in fundraising, marketing and development for political campaigns and non-profit organizations. Having attended both The Willows Community School and Marymount High School, Maggie understands the independent school culture and is excited to combine her passion for education with her development experience as Marketing and Development Manager at Echo Horizon School.

A graduate from the University of Wisconsin, Madison with a Bachelor of Arts degree in Political Science and History, Maggie considers herself a Badger fan for life. Maggie found her love for politics while volunteering in Madison on the 2004 presidential Campaign, and continued to intern and work on various other campaigns throughout her college career.

After college, Maggie found her niche in the fundraising world when she moved to the suburbs of Chicago to work on a congressional campaign. She was an integral part of a team that raised nearly four million dollars to help reelect the only physicist in Congress.

Since moving back to Los Angeles, Maggie served as Development Coordinator at Westside Children's Center where she supervised a volunteer program of over 700 volunteers; managed individual fundraising efforts; and worked in community relations with local private schools. Most recently, Maggie was the Development Manager at the American Lung Association in California, where she focused on community building for two annual signature fundraising events.

Maggie is thrilled to join the Echo Horizon community.
Tami Rubin, Dean of Students and Director of Extended Day & Community Service Coordinator
Tami Rubin is the Dean of Students, Director of Extended Day Program, and Community Service Coordinator at Echo Horizon School. Tami has been employed by Echo Horizon School since it opened in 1983. Over the years, she has worn many hats. Presently, as Dean of Students, she works closely with the students, teachers, and parents to promote a happy and healthy school experience. As Director of Community Service, Tami develops and coordinates opportunities for students to give back to both the local and global community. Through projects such as Turkey in a Tote and Books for Congo, students get hands on opportunities to make a difference. The Extended Day program at Echo Horizon has thrived under Tami's leadership. It is highly regarded as a program that promotes social-emotional growth and a multi-age community with opportunities for building both independence and leadership in a safe, recreational setting. As Director of Facilities, Tami ensures that this historic site remains pristine and safe, while also modern and dynamic as evidenced by the multiple renovations she has overseen, including, most recently, our updated beautiful new Maker Space, STEAM Space, and playground. Tami holds a Bachelor's in Interdisciplinary Studies and a Master's in Education with an emphasis in Counseling from California State University, Dominguez Hills.
Saundra Sparks, Director of Finance and Business Operations
Prior to moving to California and working at Echo Horizon School, Saundra lived and worked on the East Coast. She spent 12 years working in Manhattan for a market research firm where she began as Controller and was ultimately promoted to Vice President of Finance and Technology. She moved to Virginia in 2001 where she worked for the District of Columbia Government as a Deputy Director in the Office of the Chief Financial Officer. Upon leaving the DC Government she worked as a consultant for non-profits in the DC area. Saundra received a B.S. in Accounting from Brooklyn College and an M.B.A. from Baruch College, both of whom are part of the City University of New York (CUNY). She also holds a Masters in Information Systems from Pace University in New York.
Board of Trustees 2017-18
Please click on name to read bio
Pamela Kelly, Chair
As a Corporate Finance/Securities Partner at the law firm Latham & Watkins LLP, Pamela Kelly specialized in large, complex secured financing transactions, representing investment banks, private equity investors and companies, and served as Global Head of the firm's Gaming Group. Pamela was also an Adjunct Professor at the UCLA School of Law from 2001 until 2011, where she taught a clinical course in Public Offerings. She received a J.D. degree from UCLA School of Law in 1986, and a double B.A. degree from the University of Virginia in 1981.

Pamela is a co-founder and current member of the Board of Directors of PureMadi, which is dedicated to creating jobs and providing clean water in rural South Africa. Formerly, she had been a member of the UCLA School of Law Foundation, and was Chair of the Board of the Garden School Foundation, a nonprofit organization bringing outdoor garden classrooms, garden-based curriculum instruction, and nutrition programming to LAUSD elementary schools.

Pamela and her husband Peter, have been parents at Echo Horizon School since 1996 with all four of their children having graduated from the School (Classes of 2003, 2005, 2010, and 2014). Peter is an executive at the Capital Group Companies and a member of the Board of the Curry School of Education at the University of Virginia.

To contact Pamela, please click here.
Akeem Ayeni, Vice Chair
Akeem Ayeni is a co-founder of Anova Capital Management, LLC. He currently serves as CEO of Anova's largest portfolio company, Platt College Los Angeles, LLC. Previously, Akeem spent 14 years split between two consulting firms, McKinsey & Company and EHS Partners, leading operational and strategic improvement efforts in medium to large cap companies, working directly with CEOs and senior executives to jointly identify and implement tactical improvement opportunities. Akeem's career began with Citigroup in New York City as a Corporate Finance Associate structuring asset-backed securitization deals and numerous financing deals for large transportation industry clients. He holds an M.B.A. from Stanford University Graduate School of Business, an M.A. in International Development Economics from Stanford University, and a B.A. in Applied Mathematics from Harvard University. Akeem and his wife, Tracey, are the parents of an Echo Horizon alumna (Class of 2015) and two children who are now attending the School.
Eraka Bath, Vice President
Eraka Bath, M.D., is the Director of Child Forensic Services and an Assistant Professor in the Division of Child and Adolescent Psychiatry at the UCLA Neuropsychiatric Institute in the David Geffen School of Medicine. Eraka specializes in research on health disparities for racial ethnic minority youth and on diagnostic assessment and forensic consultation with adolescents, with an emphasis on high-risk youth, including those with developmental disorders, histories of trauma, juvenile delinquency, and foster care placement. Eraka maintains a private practice focused on forensic consultation to attorneys and governmental agencies on cases involving mental health and the law, and has authored several publications in these areas. Eraka obtained an undergraduate degree at UC Berkeley, a medical degree at Howard University College of Medicine, and completed her child psychiatry and forensic training at NYU School of Medicine where she was on the faculty for prior to joining UCLA. Eraka is a Los Angeles native and resides in the Ladera Heights area with her husband Alex Fortuit and their daughter, who attends Echo Horizon School.
Mary Brussell, Vice President
Mary Brussell is currently Vice President of the Echo Horizon School Board of Trustees. She has previously served as President of the Board (2008 – 2012), chairing many Board committees including Governance, Communications, and Inclusivity, and also as President of the Parent Association. Mary has served on the Echo Horizon School's Board since 2004, The Windward School Board from 2014-15, and the Wilshire Boulevard Temple Board of Trustees from 2002-2011. She and her husband, Dan, are the proud parents of three Echo Horizon School alumni, who graduated in 2006, 2008, and 2001 respectively. Mary is a partner at WCH Group, a manufacturer and distributor of branded and private label accessories for major retailers.
Jonathan Glaser, Vice President
Jonathan M. Glaser is the Founder and Chief Investment Officer of JMG Capital Partners, L.P. JMG has been investing in various capital markets and financing strategies since 1992. Prior to founding JMG, Jon was a member floor trader on both the American Stock Exchange and Pacific Stock Exchange.

Jon received a Juris Doctor degree from the Boalt Hall School of Law at the University of California at Berkeley, as well as a Bachelor of Arts degree from the University of California at Berkeley. He currently serves as a Trustee of the Max Factor Family Foundation, a Trustee of The L.A. '84 Foundation, and a Trustee of the UC Berkeley Foundation. Jon also sits on the Board of Directors of Hudson Pacific Properties, a New York stock exchange listed real estate investment trust, and is a member of the World Presidents Organization's Los Angeles chapter.

Jon is married to Dr. Nancy Motzkin Glaser, whom he met as an undergraduate at UC Berkeley. Nancy currently serves as the Advisory Board Chair of UCLA's Resnick Neuropsychiatric Hospital and as a member of The Windward School Board of Trustees. She also has her own practice specializing in adult psychiatry and psychoanalysis. Jon and Nancy are the parents of two Echo Horizon alumni (Class of 2008 and 2010) and one child who is currently attending the School.

To contact Jonathan, please click here.
Ken Nakayama, Secretary
Ken Nakayama has 25 years of experience in quantitative finance and trading and began his career at Bankers Trust marketing derivatives to hedge funds and other institutional money managers. He subsequently founded and headed equity derivatives and trading research at Deutsche Bank, and together with his team won numerous awards for best-in-class research from Institutional Investor (including a 1st place All-American ranking for Equity Derivatives Research), Risk Magazine, and Euromoney. Ken later traded a statistical arbitrage strategy for Deutsche Bank, then joined Barclays Global Investors (now BlackRock) to head systematic volatility trading and research. He was also the "tipster" behind a May 2001 article in Barron's that questioned Bernard Madoff's legitimacy—the only article in a major publication to raise these questions.

Today, Ken is a principal of Chord Asset Management, which runs a statistical arbitrage hedge fund. Ken is a graduate of the University of Pennsylvania and the Wharton School and a member of its secondary school committee in Los Angeles, a CFA Charterholder, a finance industry mentor and selection committee member for UCLA's Sharpe Fellows and Simon Fellows programs, and a mentor for UCLA's Masters of Financial Engineering program. Ken and his wife Lori have three boys, two of whom are currently attending Echo Horizon School, and one of whom graduated in 2015.
Darren Dworkin, Treasurer
Darren Dworkin is Chief Information Officer at Cedars-Sinai Health System. Additionally, Darren is the co-founder of Stanson Health, an early stage health tech company and managing director of Summation Health Ventures, a health focused venture fund. Darren has spent over 25 years in the information technology field and over 15 years in healthcare. Darren has been on the board of Echo Horizon for the past two years. He and his wife are the parents of an Echo Horizon alumna (Class of 2015) and a child who is currently attending Echo Horizon School.
Charlotte Hughes, Trustee
Charlotte Hughes is a private investor with over 25 years experience in the financial management industry. From 1989 to 2011, she worked for Osterweis Capital Management, beginning as a research analyst and concluding the last eight years as a portfolio manager. Charlotte graduated from Harvard College in 1984 with an A.B. in English Literature. She is the proud parent of two Echo Horizon School graduates and has a deep interest in charitable organizations in the areas of social need and education. She currently serves on the boards of Echo Horizon School and The Gabriella Foundation.
Richard Lanet, Trustee
Richard D. Lanet is Founder & President of Boardwalk Builders Inc., a small boutique general contractor with over 25 years of custom commercial and residential experience. Prior to starting Boardwalk, Richard worked with the Ken Ruby Construction Company, a highly acclaimed owner/developer/ contracting firm in the Los Angeles area for 15 years. In his role on the Board, he brings both current and long term strategic planning expertise to facilities and real estate, and also serves as a parent of a deaf and hard of hearing student. Richard was born and raised in Los Angeles and attended LA City public schools, graduating from University High School in 1979; he then attended California Polytechnic University in San Luis Obispo and received a Bachelor of Science Degree in Construction Management from the School of Architecture and Engineering. A dedicated AYSO volunteer soccer coach, Richard and his wife Joan Williamson have two children who graduated from Echo Horizon in 2008 and 2014.
Dr. Julie Marsh, Trustee
Dr. Julie Marsh is an Associate Professor at the Rossier School of Education at USC and Co-Director of Policy Analysis for California Education (PACE). Marsh specializes in research on policy implementation, governance, and accountability. Her research blends perspectives in education sociology, and political science. Over the past 20 years, much of her research has examined school districts as central actors in educational reform, including the roles played by central office administrators in both interpreting and creating policy, as well as the roles of other district actors – school board members, union leaders, citizens, parents, foundations, university partners, and community organizations – in advancing system-level reform and enhancing district capacity. Another focus of her research has been the implementation and effects of various accountability policies, including studies of the No Child Left Behind Act, performance-based evaluation and compensation, student promotion and retention policies, and charter schools. Marsh has also closely examined policies intended to support teachers and improve teaching, including research on data-driven decision-making, literacy coaches, professional learning communities, and math and science curricular reforms. Cutting across this research is a focus on the political dynamics of educational reform, the democratic nature of these efforts, and the effects of policy on practice. Marsh is currently co-PI of a study of Los Angeles Unified School District's Teacher Incentive Fund-supported human capital reforms, as well as studies of teacher evaluation in New Orleans and STEM curricular reform. She was also recently Principle Investigator (PI) of a Spencer Foundation-funded study, Bridging the Data-Practice Divide: How Coaches and Data Teams Work to Build Teacher Capacity to Use Data, and co-PI of a study of LAUSD's Public School Choice Initiative. Recent publications include: "Using data to alter instructional practice: the mediating role of coaches and professional learning communities" (Teachers College Record), "Trickle down accountability? How middle school teachers engage students in data use" (Educational Policy), "Democratic engagement in district reform: The evolving role of parents in the Los Angeles Public School Choice Initiative" (Educational Policy), and "Recent trends in intergovernmental relations: The resurgence of local actors in education policy" (Educational Researcher). She is also author of Democratic Dilemmas: Joint Work, Education, Politics, and Community (SUNY Press) and co-editor of School Districts and Instructional Renewal (Teachers College Press). http://usc.academia.edu/JulieMarsh/.

Prior to coming to USC in July 2010, Marsh was at the RAND Corporation where she last served as Senior Policy Researcher. She received a Ph.D. in Education Administration and Policy Analysis from Stanford University, a Master's in Public Policy from the University of California at Berkeley, and B.A. in American Studies from Stanford University.

A RAND Study led by Marsh earned media attention in July 2011 when the New York Department of Education ended a bonus program as a result of its findings. A Big Apple for Educators: New York City's Experiment With Schoolwide Performance Bonuses found that the New York City schoolwide performance bonus program had no effect on students' test scores, school report cards, or the way teachers reported doing their jobs. The New York Times was among the news outlets to feature the report.
Donna Raphael, Trustee
Donna Raphael has spent over twenty years holding various financial reporting and planning positions at Warner Bros. She received a Bachelor's of Science in Economics with an accounting emphasis from University of California Santa Barbara and started her career at Ernst & Young where she earned her CPA. Donna has served on the Board of Echo Horizon School since 2010 and as chair of the Audit Committee has played an active role in Echo Horizon's long term financial planning efforts. She and her husband Jorge have one son who graduated from Echo Horizon in 2013.
Jennifer Roggenkamp, Trustee
Since her daughter began Kindergarten in 2012, Jennifer has been an involved member of the Echo Horizon School community, most recently serving as Co-President of the Parents' Association for 2015-2016.

Jennifer received a B.S. in Anthropology from UCLA and a J.D. from Loyola Law School. Following law school, she was employed as an Associate Litigator at Folger Levin & Kahn, LLP where she focused her practice on employment litigation, securities arbitration, and commerical disputes.
Michael Shore, Trustee
Michael Shore is the proud parent of an Echo Horizon Alum, and one child currently at the School. As an LA native, he has first-hand experience at a number of private schools in the city. Professionally, Michael is currently Vice President of Global Consumer Insights at Mattel, responsible for research and business strategy on all Mattel/Fisher Price brands. Over the past 15 years, he has spent much of his time investigating kids', parents' and other adults' attitudes towards play across all categories of leisure activity. He has established a global research infrastructure at Mattel (including in-house research facilities) and partnered with multiple universities and leaders in the field to investigate the significance and importance of play in kids' lives. Prior to joining Mattel, Michael spent many years as an organizational development consultant and researcher with Kaiser Permanente's Organizational Effectiveness department. His work focused on optimizing team performance, management effectiveness, appraisal systems, and retention. He has degrees in Clinical Psychology and a Ph.D. in Organizational Behavior.
Paul Slye, Trustee
Paul Slye is a Managing Principal of Brentwood Capital Partners, a full-service commercial real estate firm, prior to which he was a co-founder and vice chairman RealEnergy, Inc. a developer, owner, and operator of on-site power systems serving the institutional commercial real estate market. Paul has worked in all aspects of real estate, including leading the development of a $550 million national property portfolio and a $220 million mortgage banking portfolio. Paul is an active member of numerous educational and public service entities, including the Urban Land Institute, the Westside YMCA, John Tracy Clinic, and St. Augustine's Episcopal Church. He received a Bachelor's degree from Wesleyan University, completed courses of study in architecture and real estate finance at the Harvard University Graduate School of Design, and is a licensed real estate broker. Paul and his wife, Cecil have two sons who graduated from Echo Horizon in 2010 and 2014.
Toan Tran, Trustee
Toan co-founded and managed Castle Union LLC, a hedge fund focused on special situation investments. He was also previously an associate director of equity research at Morningstar, Inc., where he headed a team of analysts focused on the technology sector. He has a B.A. with honors from the University of Chicago and a J.D. from the UCLA School of Law. In his free time, Toan enjoys working on his tennis game.
Gary Weisserman, Trustee
Gary Weisserman is Head of School at Milken Community Schools. He has extensive experience in the creative use of digital technology and social change, having served since the late 1990s as a program director with the University of Michigan's renowned Interactive Communications and Simulations Group. Gary has published and lectured around the world on web-based technologies, instructional gaming, and educational reform, and has worked extensively with UN-based organizations, NGOs, and international organizations to create digital projects for social change. Prior to his tenure at Milken, he served as Chief Academics Officer at Scheck Hillel Community School, as Founding Head of School at Oakland Early College in Michigan, and as Director of Early College and K-16 Initiatives at the University of Michigan-Flint. Gary received a B.A. in English Literature and Language, an M.A. in Educational Studies (Administration), and did doctoral research in educational technology at the University of Michigan, Ann Arbor.
William Luxford, M.D., Trustee Emeritus
Dr. William Luxford, a prominent Los Angeles neurotologist, is an associate of the House Ear Clinic. He is a Clinical Professor of Otolaryngology at University of Southern California School of Medicine. Dr. Luxford is on staff with numerous hospitals in the Los Angeles area working primarily at St. Vincent Medical Center. His clinical and research interests include middle ear implants, bone-anchored hearing appliances for chronic otitis media and single-sided deafness, cochlear implantation in children and adults, and evaluation and treatment of acoustic neuroma.
Josh Oppenheimer, Parent Association President
Joshua Oppenheimer was born and raised just outside New York City. After earning his BFA at Northwestern University, he obtained his MFA at the Peter Stark Motion Picture Producing Program at USC. Since graduating, Josh has worked as a writer in film and television for several major studios and large independent production companies. He lives with his wife, Lucille, and their two daughters, Olivia and Juliana.