Leadership and Governance
Please click on name to read bio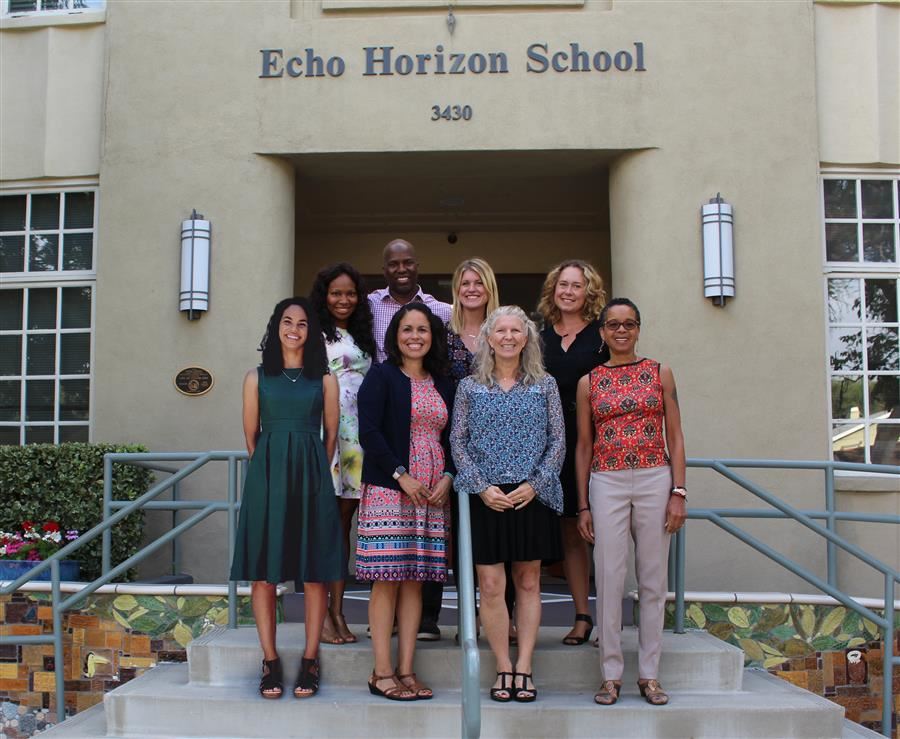 Peggy Procter, Head of School
Peggy has over 25 years of experience as an educator, having worked in schools internationally and in the United States. Most recently, she served as Dean of Students and Spanish teacher at La Jolla Country Day School and as Director of Upper School and Global Studies teacher at Windward School. At Windward, she spearheaded the Global Education, Writing and Rhetoric Across the Curriculum, Academic Integrity, and Challenge Success initiatives. Peggy is passionate about girls' and women's empowerment and leadership and serves as a facilitator for the CATDC Women Rising program for aspiring female leaders. Outside of work, Peggy is an avid reader, traveler, chocoholic, and nature lover, and there is nothing she loves more than hiking and camping with her husband John and her daughter Sidney. Peggy was born in Chicago, spent most of her childhood and adolescence in New England, and has called California home for the past 20+ years. She holds her BA from Dartmouth College in Spanish and Government and an MA in Spanish from Middlebury College in Madrid.
Roger Bridges, Associate Head of School for Advancement, Equity, Inclusion, and Counseling
Roger hails from the South, having been raised in Mississippi, before heading to the west coast for college and graduate school. He has worked with youth and families in non-profit organizations and independent schools. Prior to coming to Echo Horizon School, Roger served as Associate Director of Diversity & Inclusivity & Upper School Counselor at Windward School and as Associate Director of Counseling at The Branson School. Roger has nine years of experience as the Program Director/Consultant for a community-based educational outreach program, serving at-risk youth and is the Co-Founder/Co-Director of the Empowerment & Engagement Coalition Conference for African American Boys in Independent Schools. He has served as a facilitator and motivational speaker for schools and community-based organizations, including The Bill & Melinda Gates Leadership Institute, PACT Adopt, St. Lawrence of Brindisi School, and St. Monica's High School.


Roger also spent some time as a professional actor for live theater, film, and television. He continues his artistic endeavors as a filmmaker. Roger's latest film, Pebbles, Ripples and Waves, is a documentary about the life of director Gordon Hunt (Oscar winner Helen Hunt's father). He is a passionate sports fan and athlete and possesses a deep appreciation for the arts (dance, theater, and music). He and his wife Caroline are the proud parents of twin daughters Brees and Amaya and baby boy Grey.
Saundra Sparks, Chief Financial Officer
Prior to moving to California and working at Echo Horizon School, Saundra lived and worked on the east coast. She spent 12 years working in Manhattan for a market research firm, where she began as controller and was ultimately promoted to vice president of Finance and Technology. Saundra moved to Virginia in 2001, working for the District of Columbia government as a deputy director in the Office of the Chief Financial Officer. Saundra received a B.S. in Accounting from Brooklyn College and an M.B.A. from Baruch College, both of which are part of the City University of New York (CUNY). She also holds a master's degree in Information Systems from Pace University in New York.
Renee Polanco Lucero, Director of the Echo Center
Renee Polanco Lucero, Ph.D., LSLS Cert., AVEd, has long been committed to teaching and mentoring Pre-K–6 DHH students and their families. She has worked with the Los Angeles Unified School District, the John Tracy Clinic, and the Presbyterian Ear Institute, among others. Renee served as an Assistant Professor in Utah State University's Department of Communicative Disorders and Deaf Education. There, she taught and mentored educators of DHH students.

Renee has researched and written articles and presentations about working with culturally and linguistically diverse children and their families and implementing listening and spoken language interventions in the school setting. In 2017, she was the co-recipient of a grant from the U.S. Department of Education for personnel preparation for early childhood deaf educators.

Renee earned her Ph.D. in Special Education as well as Human Development and Psychology in a joint program with CSULA and UCLA.
Meg Baltazar, Director of Teaching and Learning
Meg Baltazar is the Director of Teaching and Learning at Echo Horizon and grade 6 Humanities teacher. Meg has a BA in Political Science with a minor in Education from San Diego State University and a master's degree in Education from Alliant University. She previously taught both 6th and 8th grade and has served as an afterschool program director at other schools throughout California. Meg is also a UCLA Extension program professor and support provider. She was born in Long Beach and raised in Northridge. She is married, has a beautiful little girl named Faith, and a sweet Frenchie named Riggins. She loves to cook, read, travel, and watch football—Go Chargers! Meg has been with Echo Horizon since 2012 and loves that when she comes to work every day, she is surrounded by passionate, dedicated, and inspirational educators. She feels lucky to be a part of such a special community.
Jennie Willens, Director of Lower Elementary
Jennie has worked in independent schools in Los Angeles since 2002. As an arts educator, she built performing arts programs and directed productions at Brentwood School that focused on interdisciplinary learning; diversity in the classroom; and connected the skills of dance, theater, and music with self and community. Jennie joined Windward School in 2012 as the Dean of Student Life and Experiential Learning, where she directed the service learning program, advisory program, student leadership, and student life initiatives. Jennie transitioned into the role of Dean of Students for the College Preparatory Division. She taught classes focused on social justice and civic engagement while also working closely with students, teachers, and parents to develop strategies for healthy communication and restorative and responsive classrooms.

Along with fellow Echo Horizon educator Jake Willens, Jennie is the proud parent of two Echo Horizon Hawks—Grace and Ryan—and she looks forward to sharing her joy for the arts, mindfulness, exploration, and equity with her new Echo Horizon community.
Julia Blount, Director of Upper Elementary
An East Coast transplant, Julia was drawn to the warmth, joy, and love of learning that is palpable the minute you walk in the door at Echo Horizon, as well as its focus on inclusion.

She began her career teaching 5th and 6th grade science, history, and nonfiction reading at public charter schools in Brooklyn, NY, and Washington, DC. Julia then returned to Georgetown Day School—her alma mater and an independent school in Washington, DC—where she taught 7th and 8th grade history and a 6th grade social justice seminar. At Georgetown Day, Julia also served as a Grade Level Coordinator, the Middle School Community Engagement Coordinator (6–8), a faculty advisor for Students of Color Mentoring, and co-director of an annual student-written theatrical production.

Julia earned her undergraduate degree in History with a minor in African American Studies from Princeton University and a Master of Arts in Teaching from Relay Graduate School of Education. Julia is pursuing her Doctor of Education in Educational Leadership at USC's Rossier School of Education.

When she's not reading history books for fun, Julia likes to cook, sing musicals in her car, and cuddle her dog, Jasper.




Abeni Bias, Director of Admission
Abeni Bias has over 10 years of admission experience in independent schools. Before Echo Horizon, Abeni was the Assistant Director of Admission and 9th Grade Advisor at The Buckley School. There, she was instrumental in outreach and increasing enrollment at the school. She also helped and advised 9th grade students through their first year of upper school.

A graduate of UC Santa Cruz with a B.A. in Sociology and of Cal State Fullerton, with an M.A. in Sociology, Abeni began her career as a high school teacher and then transitioned to admission. She enjoys getting to know each prospective family and finds it fulfilling to admit students and watch them flourish at the school.
Akeem Ayeni, Chair
Akeem Ayeni is a co-founder of Anova Capital Management, LLC. He currently serves as CEO of Anova's largest portfolio company, Platt College Los Angeles, LLC. Previously, Akeem spent 14 years split between two consulting firms, McKinsey & Company and EHS Partners, leading operational and strategic improvement efforts in medium to large cap companies, working directly with CEOs and senior executives to jointly identify and implement tactical improvement opportunities. Akeem's career began with Citigroup in New York City as a Corporate Finance Associate structuring asset-backed securitization deals and numerous financing deals for large transportation industry clients. He holds an M.B.A. from Stanford University Graduate School of Business, an M.A. in International Development Economics from Stanford University, and a B.A. in Applied Mathematics from Harvard University. Akeem and his wife, Tracey, are the parents of an Echo Horizon alumni (Classes of 2015, 2017, 2020).
Ken Nakayama, Vice Chair
Ken Nakayama has 25 years of experience in quantitative finance and trading and began his career at Bankers Trust marketing derivatives to hedge funds and other institutional money managers. He subsequently founded and headed equity derivatives and trading research at Deutsche Bank, and together with his team won numerous awards for best-in-class research from Institutional Investor (including a 1st place All-American ranking for Equity Derivatives Research), Risk Magazine, and Euromoney. Ken later traded a statistical arbitrage strategy for Deutsche Bank, then joined Barclays Global Investors (now BlackRock) to head systematic volatility trading and research. He was also the "tipster" behind a May 2001 article in Barron's that questioned Bernard Madoff's legitimacy—the only article in a major publication to raise these questions.

Today, Ken is a principal of Chord Asset Management, which runs a statistical arbitrage hedge fund. Ken is a graduate of the University of Pennsylvania and the Wharton School and a member of its secondary school committee in Los Angeles, a CFA Charterholder, a finance industry mentor and selection committee member for UCLA's Sharpe Fellows and Simon Fellows programs, and a mentor for UCLA's Masters of Financial Engineering program. Ken and his wife Lori have three boys, two of whom are currently attending Echo Horizon School, and one of whom graduated in 2015.
Dr. Eraka Bath, Vice President
Eraka Bath, M.D., is the Director of Child Forensic Services and an Assistant Professor in the Division of Child and Adolescent Psychiatry at the UCLA Neuropsychiatric Institute in the David Geffen School of Medicine. Eraka specializes in research on health disparities for racial ethnic minority youth and on diagnostic assessment and forensic consultation with adolescents, with an emphasis on high-risk youth, including those with developmental disorders, histories of trauma, juvenile delinquency, and foster care placement. Eraka maintains a private practice focused on forensic consultation to attorneys and governmental agencies on cases involving mental health and the law, and has authored several publications in these areas. Eraka obtained an undergraduate degree at UC Berkeley, a medical degree at Howard University College of Medicine, and completed her child psychiatry and forensic training at NYU School of Medicine where she was on the faculty for prior to joining UCLA. Eraka is a Los Angeles native and resides in the Ladera Heights area with her husband Alex Fortuit and their daughter, who attends Echo Horizon School.
Dr. Julie Marsh, Vice President
Dr. Julie Marsh is an Associate Professor at the Rossier School of Education at USC and Co-Director of Policy Analysis for California Education (PACE). Marsh specializes in research on policy implementation, governance, and accountability. Her research blends perspectives in education sociology, and political science. Over the past 20 years, much of her research has examined school districts as central actors in educational reform, including the roles played by central office administrators in both interpreting and creating policy, as well as the roles of other district actors – school board members, union leaders, citizens, parents, foundations, university partners, and community organizations – in advancing system-level reform and enhancing district capacity. Another focus of her research has been the implementation and effects of various accountability policies, including studies of the No Child Left Behind Act, performance-based evaluation and compensation, student promotion and retention policies, and charter schools. Marsh has also closely examined policies intended to support teachers and improve teaching, including research on data-driven decision-making, literacy coaches, professional learning communities, and math and science curricular reforms. Cutting across this research is a focus on the political dynamics of educational reform, the democratic nature of these efforts, and the effects of policy on practice. Marsh is currently co-PI of a study of Los Angeles Unified School District's Teacher Incentive Fund-supported human capital reforms, as well as studies of teacher evaluation in New Orleans and STEM curricular reform. She was also recently Principle Investigator (PI) of a Spencer Foundation-funded study, Bridging the Data-Practice Divide: How Coaches and Data Teams Work to Build Teacher Capacity to Use Data, and co-PI of a study of LAUSD's Public School Choice Initiative. Recent publications include: "Using data to alter instructional practice: the mediating role of coaches and professional learning communities" (Teachers College Record), "Trickle down accountability? How middle school teachers engage students in data use" (Educational Policy), "Democratic engagement in district reform: The evolving role of parents in the Los Angeles Public School Choice Initiative" (Educational Policy), and "Recent trends in intergovernmental relations: The resurgence of local actors in education policy" (Educational Researcher). She is also author of Democratic Dilemmas: Joint Work, Education, Politics, and Community (SUNY Press) and co-editor of School Districts and Instructional Renewal (Teachers College Press). http://usc.academia.edu/JulieMarsh/.

Prior to coming to USC in July 2010, Marsh was at the RAND Corporation where she last served as Senior Policy Researcher. She received a Ph.D. in Education Administration and Policy Analysis from Stanford University, a Master's in Public Policy from the University of California at Berkeley, and B.A. in American Studies from Stanford University.

A RAND Study led by Marsh earned media attention in July 2011 when the New York Department of Education ended a bonus program as a result of its findings. A Big Apple for Educators: New York City's Experiment With Schoolwide Performance Bonuses found that the New York City schoolwide performance bonus program had no effect on students' test scores, school report cards, or the way teachers reported doing their jobs. The New York Times was among the news outlets to feature the report.
Josh Oppenheimer, Vice President
Joshua Oppenheimer was born and raised just outside New York City. After earning his BFA at Northwestern University, he obtained his MFA at the Peter Stark Motion Picture Producing Program at USC. Since graduating, Josh has worked as a writer in film and television for several major studios and large independent production companies. He lives with his wife, Lucille, and their two daughters, Olivia and Juliana.
Toan Tran, Treasurer
Toan co-founded and managed Castle Union LLC, a hedge fund focused on special situation investments. He was also previously an associate director of equity research at Morningstar, Inc., where he headed a team of analysts focused on the technology sector. He has a B.A. with honors from the University of Chicago and a J.D. from the UCLA School of Law. In his free time, Toan enjoys working on his tennis game.
Peter Scott, Secretary
Peter Scott is a screenwriter who has worked in film, television, books and new media. He is a member of the Writer's Guild of America. Originally from the suburbs of Boston, Massachusetts, Peter is a graduate of Milton Academy in Milton, MA, and Harvard University, from which he holds a B.A. in Economics. Prior to starting his writing career, Peter worked in management consulting at the Monitor Group in New York City. Peter and his wife, Emily Fox, are the parents of two current Echo Horizon students.




Dawn Barrett, Trustee
As the Chief Operating Officer and Director of Institutional Advancement at Windward School, Dawn specializes in strategy, risk management, and infrastructure. Dawn joined Windward in the fall of 2011 and brings over 20 years of experience working within the non-profit and educational sectors.

Though a Northern California native, Dawn moved to Los Angeles to pursue her undergraduate education at UCLA. She later received an MBA from the Graziadio School of Business and Management at Pepperdine University with an emphasis in Leadership and Organizational Change.

Dawn has three grown children and resides in Calabasas.




Anne Enna, Trustee
Anne is the founder and managing partner at Beal Private Capital, which helps entrepreneurial investors and operators with the initial capitalization of their businesses. The firm is based in Los Angeles and New York City.

Before Beal Private Capital, Anne built her career in Silicon Valley, including tenure as an enterprise software product marketer at Ariba Networks, as an investor at Van Wagoner Capital and as an investment banker at Perseus Group and Alex. Brown.

In addition to her work at Beal Private Capital, Anne is an Advisory Board at Electric Monster.


Anne has a B.A. in History from Yale College and an M.B.A. from the Stanford Graduate School of Business.
Pamela Kelly, Trustee
As a Corporate Finance/Securities Partner at the law firm Latham & Watkins LLP, Pamela Kelly specialized in large, complex secured financing transactions, representing investment banks, private equity investors and companies, and served as Global Head of the firm's Gaming Group. Pamela was also an Adjunct Professor at the UCLA School of Law from 2001 until 2011, where she taught a clinical course in Public Offerings. She received a J.D. degree from UCLA School of Law in 1986, and a double B.A. degree from the University of Virginia in 1981.

Pamela is a co-founder and current member of the Board of Directors of PureMadi, which is dedicated to creating jobs and providing clean water in rural South Africa. Formerly, she had been a member of the UCLA School of Law Foundation, and was Chair of the Board of the Garden School Foundation, a nonprofit organization bringing outdoor garden classrooms, garden-based curriculum instruction, and nutrition programming to LAUSD elementary schools.

Pamela and her husband Peter, have been parents at Echo Horizon School since 1996 with all four of their children having graduated from the School (Classes of 2003, 2005, 2010, and 2014). Peter is an executive at the Capital Group Companies and a member of the Board of the Curry School of Education at the University of Virginia.

To contact Pamela, please click here.
Darren Dworkin is Chief Information Officer at Cedars-Sinai Health System. Additionally, Darren is the co-founder of Stanson Health, an early stage health tech company and managing director of Summation Health Ventures, a health focused venture fund. Darren has spent over 25 years in the information technology field and over 15 years in healthcare. Darren has been on the board of Echo Horizon for the past two years. He and his wife are the parents of an Echo Horizon alumna (Class of 2015) and a child who is currently attending Echo Horizon School.
Charlotte Hughes is a private investor with over 25 years experience in the financial management industry. From 1989 to 2011, she worked for Osterweis Capital Management, beginning as a research analyst and concluding the last eight years as a portfolio manager. Charlotte graduated from Harvard College in 1984 with an A.B. in English Literature. She is the proud parent of two Echo Horizon School graduates and has a deep interest in charitable organizations in the areas of social need and education. She currently serves on the boards of Echo Horizon School and The Gabriella Foundation.
Bruno Lambertini, Trustee
Bruno is a creative entrepreneur who was born and raised in Argentina. He graduated with honors with a major in Economics from the University of Buenos Aires and began his career by representing a variety of Argentinean industrial sectors with the WTO in 1998. A year later, Bruno decided to switch careers. While his background was not in the marketing field, he took on the challenge of opening his first start up, Aper.net, a Digital Marketing Agency that leveraged the region's growth in tech adoption. During his time at Aper.net he led its expansion plan by opening offices in Madrid and Mexico City in 2002.

While at Aper.net, Bruno quickly became aware of how much technology and media were beginning to be intertwined and how this would affect the way marketing and advertising would be done in the years to come. Bruno went on to found Circus Marketing in 2005.

His goal was to create a new way to navigate the advertising world, by implementing story building led by innovation and inspired by human desires. Combining the strength of micro-networks and the agility commonly found in startups, Bruno was able to grow Circus Marketing from a single office in Mexico City to a regional agency and then to a globally integrated agency in the course of 15 years. With offices in Los Angeles, Mexico City, Buenos Aires, Madrid, Bogota, Costa Rica, Santiago de Chile and most recently São Paulo, Circus has served to a gamut of clients including to Netflix, Spotify, Uber, Google, Warner Bros Pictures, Turner, Kayak, Heineken, Citibank, Northgate and California Lottery.

With Bruno as its CEO, Circus Marketing has won major regional awards, such as BEST INDEPENDENT AGENCY at el Ojo de Iberoamérica, BEST AGENCY at IAB Mixx, BEST AGENCY CREATIVE CIRCLE, as well as 8 Cannes Lions between 2012 and 2019.

In 2012, Bruno was chosen to serve as VP on the Board of Directors of the Mexican Association of Advertising Agencies (AMAP) at a time when communications were being relaunched in the country. And most recently in 2018, Bruno was chosen as part of the Council of the Americas. He has written for specialized journals such as Merca20, InformaBTL and Adlatina and has taught different courses at universities like University of Buenos Aires and San Diego University.

Being involved in the community, helping others and giving back has always been important to him, which is why he supports NGOs like The John Tracy Clinic, Valle de Huajes & Innovando la tradición, and is part of the Human Sustainability Project Board. Bruno and his wife Patricia are the proud parents of two current Echo Horizon students.




Eric Lorenzini, Trustee
Eric Lorenzini is a lawyer with 20 years of experience in civil litigation, including real estate, contract, business tort, partnership, copyright, and trademark disputes. For the past 10 years, he has been a partner at Elkins Kalt Weintraub Reuben Gartside LLP, a full-service law firm in Century City. Prior to joining Elkins Kalt, he was with Munger Tolles & Olson LLP. Eric graduated from Trinity College in Hartford, Connecticut in 1990 with a B.A. in sociology and political science. He obtained his J.D. from Stanford Law School in 2001. Prior to law school, Eric worked for seven years for Common Cause, a nonprofit grassroots lobbying group, as State Issues Director in Washington, DC and as Executive Director of the state chapter in Connecticut. He and his wife Michelle Dean live in Culver City with their son, who is a first grader at Echo Horizon School and in the Echo Center.
Gillian Nalibotsky, Trustee
Gillian Nalibotsky currently works as an attorney in the public sector representing the State of California. She began her legal career as a litigation attorney representing financial institutions in matters involving commercial transactions, bankruptcy, real estate leases and complex fraud. She is an appointed committee member of the Los Angeles County Bar Association, Joint Task Force on the Retention and Promotion of Women Lawyers and is a member of the National Charity League.
Donna Raphael has spent over twenty years holding various financial reporting and planning positions at Warner Bros. She received a Bachelor's of Science in Economics with an accounting emphasis from University of California Santa Barbara and started her career at Ernst & Young where she earned her CPA. Donna has served on the Board of Echo Horizon School since 2010 and as chair of the Audit Committee has played an active role in Echo Horizon's long term financial planning efforts. She and her husband Jorge have one son who graduated from Echo Horizon in 2013.
John P. Roberts, Trustee
John P. Roberts is the Chief Content Officer of Pure Imagination Studios, which focuses on the development and execution of original TV, film, and digital productions for kids and family. John is a four-time Emmy Award nominee in interactive television and recipient of the ITV Leadership Award from ITVT. He is also a board member of the Producers Guild New Media Council and an active member of the Academy of Television Arts & Sciences. John lives in West Hollywood, CA, with his wife Christie and their son, a second grader at Echo Horizon. He graduated from State University at New York with a bachelor's degree in Communication/Media.
Since her daughter began Kindergarten in 2012, Jennifer has been an involved member of the Echo Horizon School community, most recently serving as Co-President of the Parents' Association for 2015-2016.

Jennifer received a B.S. in Anthropology from UCLA and a J.D. from Loyola Law School. Following law school, she was employed as an Associate Litigator at Folger Levin & Kahn, LLP where she focused her practice on employment litigation, securities arbitration, and commerical disputes.
Sharon Tal Yguado, Trustee
Sharon Tal Yguado is a leading media executive. She most recently served as the head of original series at Amazon Studios. In this role, Sharon oversaw the development and production of big scope, hour-long genre series. She originated and spearheaded numerous high-profile projects, including The Lord of the Rings and The Wheel of Time. The Hollywood Reporter has named Sharon one of the top 100 female leaders in Hollywood for two consecutive years (2017, 2018).

Previously, Sharon served as the head of Fox International Studios and EVP of global programming at Fox Networks Group (FNG), where she oversaw FNG's original global scripted strategy. She led the development and production on a number of global scripted TV franchises, including The Walking Dead (AMC), Outcast (Cinemax), and Legion (FX). Sharon was also responsible for the programming strategy and launch of over 150 entertainment channels all over the world. Under her leadership, Fox became the largest global cable network in Europe, Asia, and Latin America.

Sharon has a master's degree in Film and Media Studies from New York University and The New School. She also has a bachelor's degree in Psychology from Tel Aviv University in Israel. Sharon is married to Joshua Yguado, President and Co-Founder of JamCity. They have two children at Echo Horizon. Sharon was born in Israel and lived in Rome, Italy, and New York before moving to Los Angeles 12 years ago.




Robert Thun, Trustee
Robert Thun is Senior Vice President of Content and Programming for AT&T Mobility and Entertainment. Previously, Robert was Executive Vice President of Business Operations for Univision Communications, Inc. Robert also served as Associate Vice President of Content for AT&T Operations, Inc. and as Vice President of National Accounts, Sales Strategy and Business Development at Fox Cable Networks. Robert holds a bachelor's degree in Business Administration from the University of Georgia, a master's degree in Accounting from USC, and an MBA from UCLA's Anderson School of Management. Robert also serves as a board member of the Los Angeles Sports Council. He and his wife Jola are the parents of an Echo Horizon alumnus who graduated in 2018.
Heather Cox and Vera Nazzal, Parent Association Presidents
William Luxford, M.D., Trustee Emeritus
Dr. William Luxford, a prominent Los Angeles neurotologist, is an associate of the House Ear Clinic. He is a Clinical Professor of Otolaryngology at University of Southern California School of Medicine. Dr. Luxford is on staff with numerous hospitals in the Los Angeles area working primarily at St. Vincent Medical Center. His clinical and research interests include middle ear implants, bone-anchored hearing appliances for chronic otitis media and single-sided deafness, cochlear implantation in children and adults, and evaluation and treatment of acoustic neuroma.