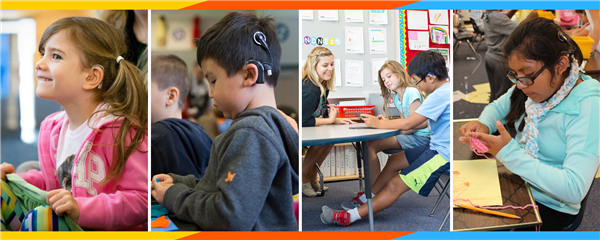 The Echo Center operates within Echo Horizon School, which provides a complete Pre-K through 6th grade academic program to hearing, deaf, and hard-of-hearing (DHH) students.

Mainstream Program

Through The Echo Center, all students with hearing loss are fully mainstreamed into their classrooms. They participate in all areas of academic study including art, music, dance/theatre, and physical education. Our Echo Center teachers have master's degrees from accredited training programs and are credentialed in their field. Speech, language, and auditory skills are promoted on a daily basis through a co-teaching model with an Echo Center teacher and a regular credentialed teacher team at each grade level.

Academic Program

Echo Horizon's experienced faculty engages daily with each child, providing academic excellence in a collaborative environment. Our program is academically challenging and developmentally appropriate for each of our students. Over the course of their academic journey at Echo Horizon School, children move toward their personal best as they experience a balanced education that combines the best traditional practices with research-tested innovation. Our graduates are inquisitive, innovative problem solvers who bring collaboration, creativity, kindness and resilience to their lifelong journey of learning.

We are committed to providing:

a safe and secure environment where students can grow in autonomy and learn to work and play together.
an environment that nourishes our students' social, emotional, physical, intellectual, and moral growth.
the best education for the whole child by using state-of-the-art techniques and technologies.
opportunities for our students to actively engage in making connections, solve real-life problems, and think independently.
opportunities for our students to work creatively and collaboratively with local and global partners.
our resources, practices, and knowledge to the local and global DHH community.