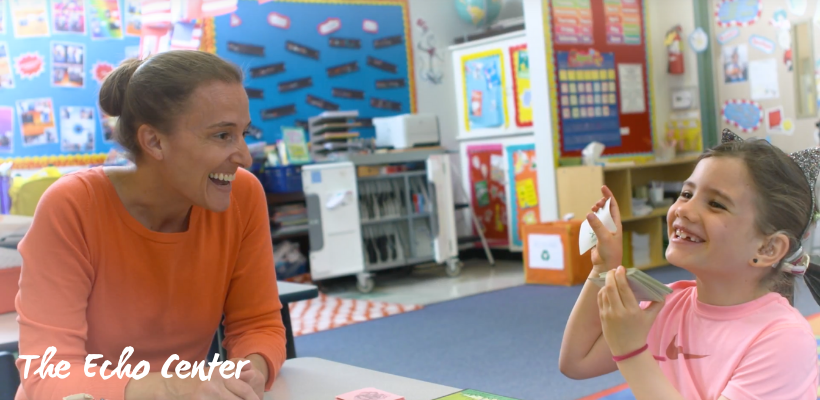 The Echo Center is a Nonpublic School (NPS) within Echo Horizon School that serves the fifteen percent of our students who are deaf or hard of hearing (DHH).

Inclusion Program

Through the Echo Center, all students with hearing loss are fully included into their classrooms. They participate in all areas of academic study including Maker/STEAM, music, Spanish, and physical education. Our Echo Center teachers have master's degrees from accredited training programs and have the California DHH Specialist credential. Speech, language, and auditory skills are promoted on a daily basis through a collaborative teaching model with an Echo Center credentialed teacher and a general education teacher at each grade level.

Program Offerings:

A positive collaborative learning environment for DHH and hearing peers that fosters self-reliance, creativity, and joyful learning.

Daily monitoring of personal and classroom hearing technology

Daily support of listening and spoken language development by:

Pre-/post-teaching

Social skills and advocacy training

Implementing recommended modifications and accommodations

Incorporating a supplemental listening and spoken language intervention program

Annual assessments and ongoing evaluation of student skills and academic achievement to create an individualized program for DHH students

Family support and collaboration between the school, family, and hearing healthcare professionals

We are committed to providing:

a safe and secure environment where students can grow in autonomy and learn to work and play together.

a community that nourishes our students' social, emotional, physical, intellectual, and moral growth.

the best education for the whole child by using state-of-the-art techniques and technologies.

opportunities for our students to actively engage in making connections, solve real-life problems, and think independently.

opportunities for our students to work creatively and collaboratively with local and global partners.

our resources, practices, and knowledge to the local and global DHH community.