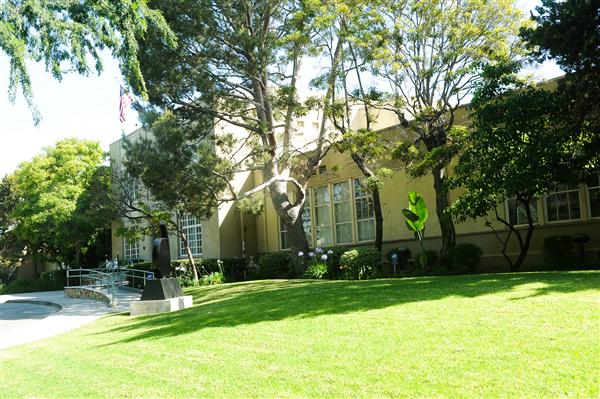 Echo Horizon is a vibrant school in Culver City with a thirty five year history of providing joyful engaged learning in an inclusive environment to students in grades Pre K-6. It has a rich history and an exceptional reputation and we are proud that we send well-prepared, confident students to the best middle schools in the city.

The story begins in 1983, when Kent and Carol Landsberg established the Kent H. Landsberg Echo Horizon School, Carol L. Procter Echo Center, now known as Echo Horizon School, an independent Kindergarten-6th grade school to educate deaf and hard of hearing children (DHH) in the community alongside their hearing peers. The ratio of DHH students to hearing students was set at approximately 10% of the student population to ensure an ideal educational experience for the entire student body. Kent and Carol firmly believed that this inclusive environment would benefit ALL students and families, teaching them important values such as diversity, honoring similarities and differences, kindness, self-advocacy, perseverance, and collaboration. From the very beginning, inclusion has been part of our DNA, and we constantly hear from our community members and feeder schools that Echo Horizon students are intelligent and kind and that they contribute positively to the community and world.

Our program prioritizes academic excellence and social emotional learning in a joyful, engaged, and innovative environment. Along with exceptional academic preparation, we believe that character matters, and we integrate the teaching of character skills into everything that we do. Our teachers truly know each and every student - their family backgrounds, interests, strengths, and challenges, and this helps them to support each child to reach his/her/their fullest potential. Our diversity responsive classrooms prepare students to thrive in the multicultural and global world which surrounds them and challenges them to give back to their communities

While our past defines and guides us, our open-minded, innovative approach to teaching and learning allows us to take the best of the past and integrate it with best educational practices of the present and future to create the optimal learning environment where all students thrive as life-long learners. We invite you to come visit our amazing community and hope that you will become part of the magic that is Echo Horizon School!