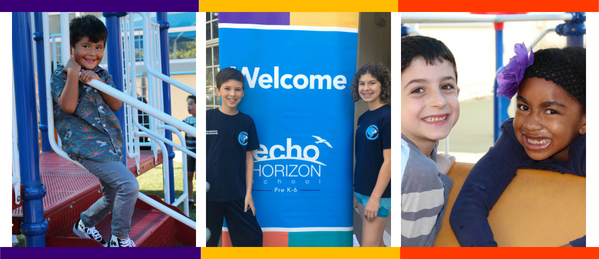 We put students first. We build a vibrant community for our students, encourage them to participate in their own education, and continually support their academic, social, and emotional growth.

We think big in an intimate setting. Attending Echo Horizon is like being part of an extended family. Children are nurtured and supported as they are challenged to explore and discover.

We take education seriously. We are research-based and deeply immersed in the world of primary education. We prepare our students not only for secondary schools and beyond, but also to become responsible adults, community leaders, and proactive global citizens.

We prioritize character education. We use the Responsive Classroom social/emotional curriculum to teach our students how to connect with one another and one's community.

We value thinking time. Inspired by Google's "20% time" policy and the design thinking of Stanford's d.school, our Centers of Inquiry and Innovation ensure designated time and spaces for students to pursue their passions and ignite their learning.

We are truly distinguished. Echo Horizon School has been recognized as an Apple Distinguished School since 2010 for innovation, leadership, and educational excellence. We were the first elementary school to receive this distinction.

Our outcomes speak volumes. Echo Horizon's 6th grade graduates matriculate to the best secondary schools in Los Angeles. Our Head of School works closely with each family to identify schools that are the best fit, and our 6th graders are active participants in the middle school admissions process.

We go green. We recycle, take the metro, use reusable lunch containers, and have a no balloon policy. We also maintain a garden that is tended by students from all grade levels. Our 3rd–6th grade projects were recognized in Mayor Eric Garcetti's Sustainable City pLAn.

We are globally connected. Sixth graders discussing their school day with children in Korea; fifth graders exchanging emails with a scientist in Antarctica; and Pre-K students skyping with an Irish dairy farmer and his newborn calves. Just another typical day at Echo Horizon School.