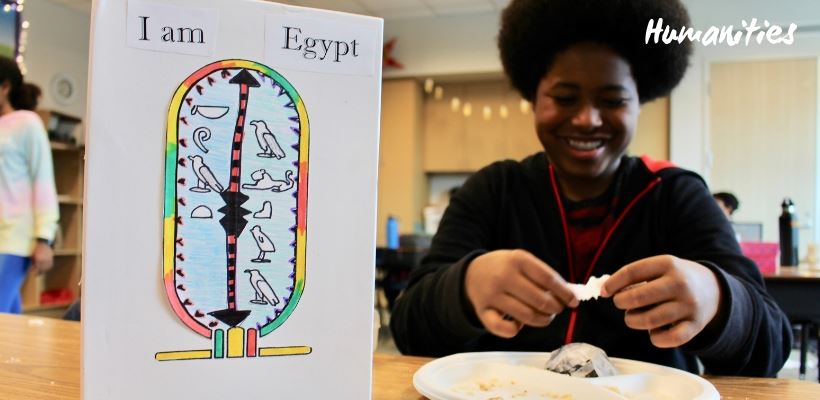 The Humanities program is designed to connect classroom learning to the outside world, build empathy, and anchor understanding. It uses thematic units, primary sources, and a variety of texts to study people, and our past, present, and future. The program takes strong, traditional reading and writing processes and adds depth and meaning through a historical and human lens.

With technology at the core of our development as a community, there has to be an understanding of the balance between technology and the people behind these innovations, in order to understand the bigger picture and bring it all together. The foundation of our Humanities program holds that through understanding people we can begin to change the world.

Humanities from Pre-K–6

Pre-K–1: With a firm anchor in our six Points of Pride, the beginning program focuses on the basic concepts of respect, citizenship, responsibility, fairness, trustworthiness, and caring. Along with building strong foundations in reading, writing, and phonics, Humanities at this level brings history to life by exploring the definition of "community" and traditions from different cultures. Through learning about roles in a community, different types of communities, and the people who comprise them, we emphasize the importance of kindness, giving, and understanding differences.

2–3: Humanities at the middle grades expands our understanding of community by focusing on cultures around the country and the world. Students begin to research and take notes about various topics, practicing fundamental skills such as written mechanics, organization, and spelling. Primary and secondary sources show various perspectives and help students examine world cultures and the diverse history of Los Angeles. Through history and present-day events, students develop an understanding of different regions of the world. This gives them a broader and deeper understanding of humanity.

4–6: Exploring history through a human lens is the focus of our upper-level Humanities program. Through primary and secondary sources, students begin to understand human experiences and how historical events affected communities in the past and still do so today. The students explore different perspectives through historical and current events, examining traditions, biases, cultural and religious influences, and developing a further understanding of and respect for differences. Along with developing strong research and analytical skills, the Humanities curriculum partners with the Lucy Calkins Writer's Workshop to strengthen students' overall writing by improving form, exploring voice, and examining what it means to write to an audience.