Echo Horizon's Welcoming Embrace
Posted by Peggy Procter on 9/22/2020 10:30:00 AM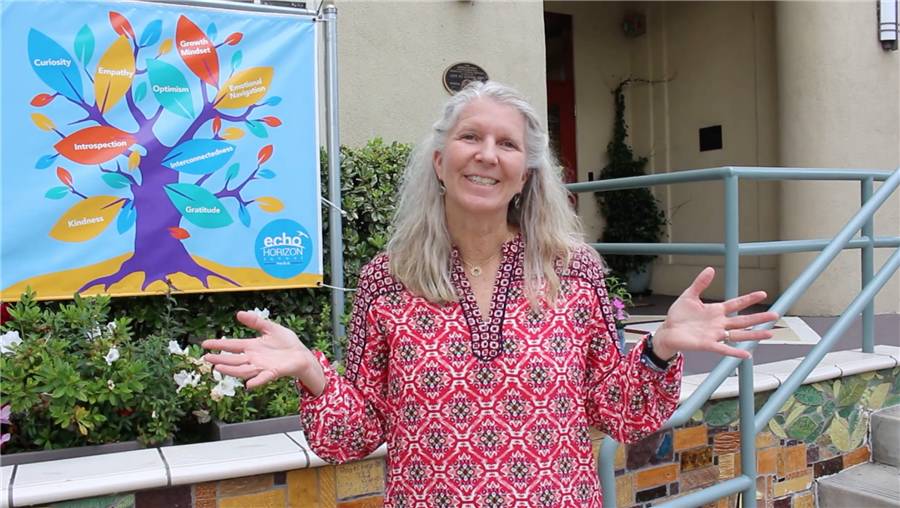 Returning to Echo Horizon after spring break in April was surreal. No cars lined up at carpool, no families waited at the back gate. The halls were empty and quiet. Did I even need to turn on the lights other than in the front offices? I was lonely and sad. I headed to my office and settled in, organizing myself for the day. The phone didn't ring and no one knocked on my door. I looked on the bright side and thought that maybe I'd actually get through a project without interruptions, something that never happens on a "real" school day. I got to work.
At around 10AM, my ears perked up as I heard laughter and squeals. I wondered if I had actually dozed off and been dreaming, but that wasn't the case. I heard little voices chattering away. I went to my window to peek, but the slightly overgrown bushes blocked my view, so I decided to go to the front door. Sherif Zakaria was at his desk; I asked him if he heard the playful noises too and he nodded. We headed to the front door and saw a small group of children playing outside with their parents or caregivers. I beamed at Sherif and he grinned back. A few children approached the door to look at us, and we held up our hands through the glass and high fived. When they moved away from the door and were a safe distance away, I went outside, mask on. I felt the adults tense up at my presence. They must have thought I was going to ask them to leave! I smiled and told them how much we missed having children around and that we loved having them play on our front grass! They seemed relieved. From that day on, there were always children and families sitting on our front steps, riding scooters in our circle, and playing on our beautiful grass.
This month, I watched a dad teach his son to throw and catch a baseball in our circle. Another morning I watched children coloring in the shade on the flat concrete at the top of the stairs. Just last Friday afternoon, I watched two families with small children set up a socially distanced family picnic dinner in the shade behind the Guy Dill sculpture.
At the most difficult of times, when a sense of community and normalcy is most needed, our beautiful school draws people in with its warm embrace. Even with a park next door, there is something more intimate and appealing about our front lawn at 3430 McManus.
It's been hard having Echo Horizon bereft of the joy, smiles, and laughter of our students for so long, but it has been a gift to share our tranquil space with the community.