Optimism and Joy in the Time of COVID
Posted by Peggy Procter on 8/25/2020 9:35:00 AM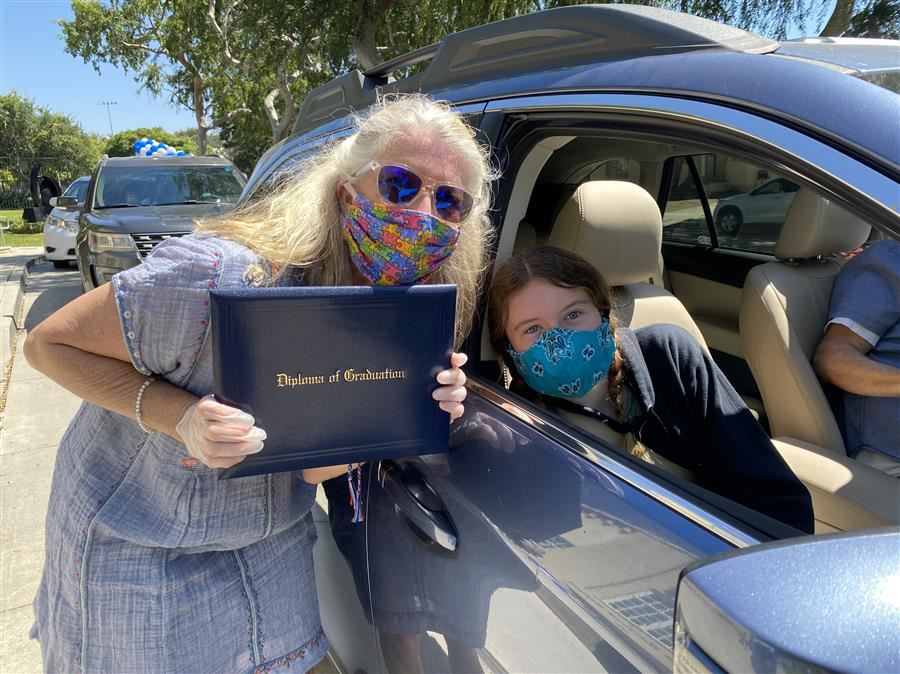 We just completed our new/faculty staff orientation and our Echo Center retreat and are in the midst of our planning week for the 2020–2021 school year. Despite the fact that I've been in education for 30 years, I feel the same excitement and jitters for the start of every school year. I know that I will toss and turn as I try to fall asleep because opening day is such a BIG deal for me!
The spring and summer were challenging for all of us—parents, guardians, teachers, staff, and administrators—as we tried to prepare for fall 2020 and envision the new normal for what school might look like. It has been a roller coaster of emotions. We hit rock bottom on that fateful day in July when Governor Newsom announced that K–12 schools would not be allowed to open until we crossed a certain threshold of cases, one that remains out of reach for Los Angeles County.
By nature I am an optimist, wired to see the bright side of every situation. And I am committed to not losing that signature optimism, despite being faced with the most complicated problem of my professional career. Yet even I have struggled mightily to keep a smile on my face (under the mask). I know that so many others are struggling with this same anxiety and sadness as the pandemic lingers. Dr. Tina Payne Bryson—psychologist, author, and parenting expert—is someone I admire greatly and whose wisdom continually impresses me. In a recent ZOOM workshop with her, I was struck and inspired by her explanations and her suggestions. She clarified that what so many of us are dealing with now is chronic stress, which "impacts the brain and body much more than individual stressors that come and go quickly." With chronic stress, "threats are coming constantly, with no reprieve." Our body's nervous system response is presently "activated" and we feel untethered and unsafe. She also shared that human brains hate unpredictability, as it "undermines our sense of safety." Times have never been more unpredictable. Dr. Payne Bryson's clear description of what is going on in my brain as I am challenged to lead and problem solve in this ongoing crisis was helpful and freeing.
But even more importantly, Dr. Payne Bryson shared with us many suggestions for how to move forward positively during this unprecedented time. I am thrilled to say that Echo Horizon is embracing and will continue to embrace so many of her suggestions. Three suggestions stood out to me as the most important:
Predictability
Predictability is vital to create consistency and safety for children as we start a new school year. Thus, Echo Horizon's plan to open the school year with two weeks of socioemotional-focused learning, where each grade level gets to know a core team of teachers and specialists who will be a consistent presence in their lives, is a brilliant one. This two-week unit will also focus on community building to ensure that students get to know one another and understand the classroom expectations and routines. We truly believe that opening in this way will allow our students to feel safe and known, with the hope of deactivating a sense of danger and unpredictability that may have been looming.
Play and Playfulness
This suggestion was music to my ears. It is clear from our motto of "Joyful Engaged Learning" that at Echo Horizon we value play. Dr. Payne Bryson suggests "laughter, fun, and creativity to provide massive doses of safety above fear." As a school that firmly believes that academic excellence and social-emotional learning are equally vital, we are committed to infusing joy and creativity into everything that we do. Bring on the scavenger hunts, skits, and game nights!
The Role of Adults
Dr. Payne Bryson reminded me that all of the adults in the lives of children are mirrors and we must create a culture of confidence and competence right now, despite our doubts and worries. This may be hard, but we must let our children know that WE'VE GOT THIS! It doesn't mean having all the answers and being perfect, but it does mean creating an environment where they know that the adults in their lives are there to support, protect, listen, and lead. As I thought about this suggestion, my confidence grew. There is much that I still have to learn about leading a school through a pandemic; but it is also true that I know a TON as I have been actively educating myself for the past six months to be ready to lead with competence and confidence. Parents too must muster up all of their confidence, so that we can be strong partners in leading our children through these turbulent times together.
Our new faculty/staff Hawks have blown me away with their talents, enthusiasm, and commitment to being "all in" for our school, our children, and our families. I cried tears of joy as I thanked them for joining us on this challenging journey. At the end of our new staff orientation, my heart was full of joy and optimism for what the 2020–2021 year will bring. While yes, we are living in unprecedented times filled with uncertainty and challenge, with the help of the Leadership Team, my new faculty/staff, and the wise words of Dr. Tina Payne Bryson, I confidently share with you that I sincerely believe that these challenges will provide us with much opportunity for growth, learning, and reflection.
With gratitude and love,
Peggy
Resources
Zoom Workshop: Student Wellbeing As We Return for Fall, hosted by California Association of Independent Schools (CAIS) with CAIS Executive Director Dr. Deborah Dowling and panel Tanya Altmann, MD, FAAP, Tina Payne Bryson, Ph'D, and Charles Sophy, MD.
https://www.caisca.org/page/2242_Home.asp