Posted by Peggy Procter on 3/24/2020 3:00:00 PM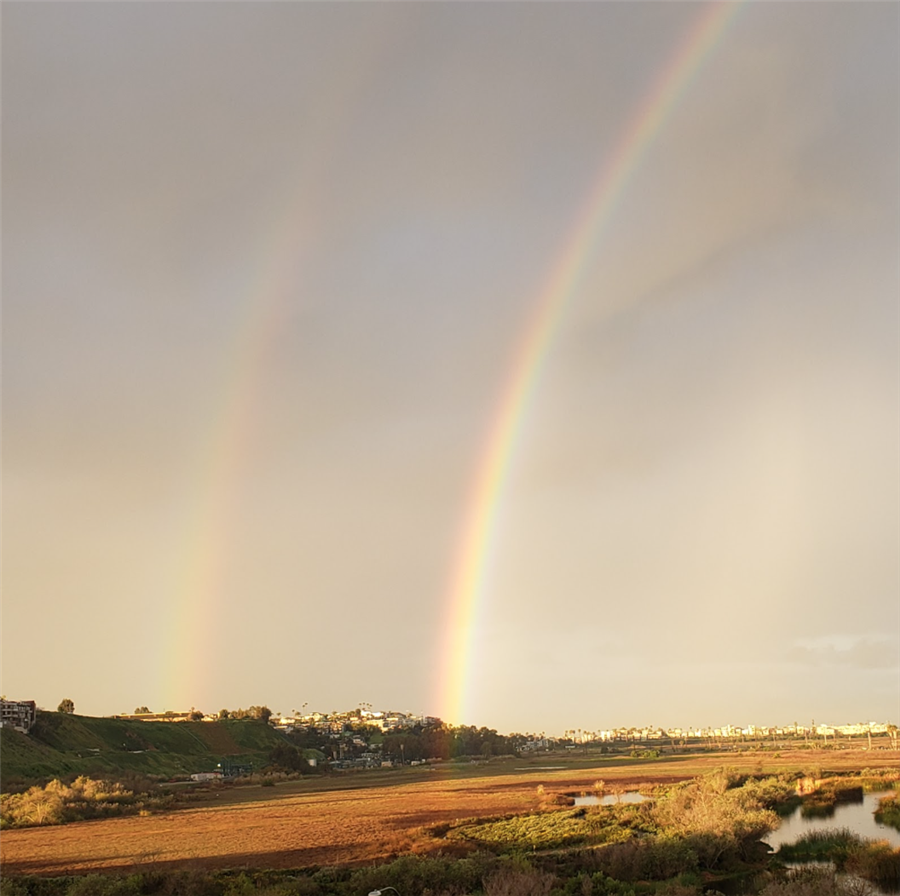 The Rainbow
"In every crisis, doubt or confusion, take the higher path—the path of compassion, courage, understanding and love."
—Amit Ray, Indian author and spiritual master best known for his books
and teachings on meditation, yoga, and peace.
I am not one who tends to be superstitious, but for the first time in my long life, Friday, March 13 felt like a "Friday the 13th." I was fortunate to have afternoon carpool that day, because it was important for me to be outside greeting our parents and saying goodbye to our youngsters as I knew it might be awhile before we were together again in person. As I watched 6th grader Eli Mayer push his face to the window and wave goodbye with sadness, I fought back tears and struggled to maintain my usual cheerful demeanor. This wasn't Eli the jokester—this was serious Eli, beginning the process of mourning the closing of his beloved school as he worried about when he might see his dear friends and teachers again. I can still see Eli's face in that window.
On Sunday the 15th, I awoke to a light rain as the sun came up. I was feeling anxious about the next few days where I would help train our faculty in teaching their classes online, something I am far from an expert at. I stepped into the living room, glanced to the right out the window, and there it was—a gorgeous double rainbow that was growing brighter and bigger. Just when I was thinking about hunkering down for a Peggy pity party, Mother Nature decided otherwise. As I told the students in a recent Leadership Team social-emotional learning video, I am, by nature, an optimist. And this beautiful rainbow reminded me of it at just the right moment.
In art, literature, and folklore, the rainbow often appears just after a storm, when the sun struggles to break through the clouds and warm us again. In that famous Muppet song, Kermit the Frog reminds us that the rainbow is something we wish upon to give us hope. In social movements worldwide, the rainbow is a symbol of change, the coming of a new era, peace, and the beauty of diversity.
That rainbow reminded me to seek goodness and beauty and to maintain hope and optimism in the face of difficulty. When my heart aches because I miss the children so deeply, the vision of the rainbow reminds me of the laughter in the hallways, curiosity in the classrooms, and inclusion on the yards. It reminds me of the I AM LOVE cards that decorate my office door made by my thoughtful first graders. It reminds me of the glorious single stem rose that Dylan gives me every Valentine's Day and of how nice it feels to be invited to play handball by the 4th graders. It reminds me of the love and care that our faculty give to our students each and every day. It reminds me of the warm greetings I receive from parents and students at the Back Gate each day, even on the days when I'm late!
I will hold the vision of the rainbow close to my heart each day that we are apart. Please know how much I miss you all and how much I look forward to throwing the front doors of Echo Horizon open again to greet you!