The Benefits of a Pre-K–6 Education
Posted by Peggy Procter on 12/18/2019 3:00:00 PM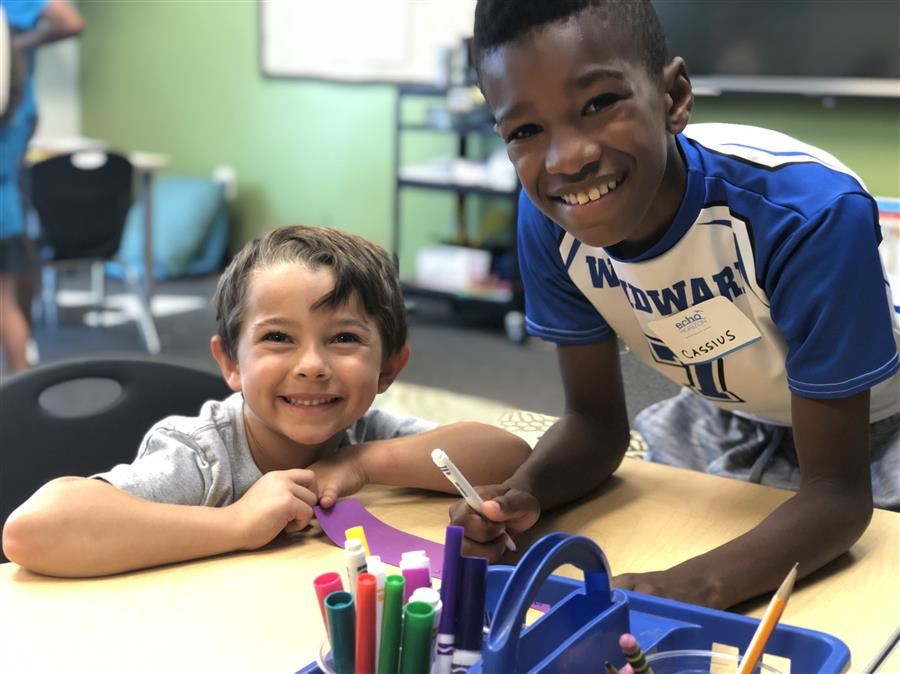 As the exciting and tad bit exhausting fall admission cycle comes to an end, I find myself reflecting on the question I am most often asked: What makes Echo Horizon School so special? There are SO many factors that make Echo the joyful, engaging, unique, and inspiring place that it is! But upon reflection, I realize that our sterling quality stems from one key factor—that as a Pre-K–6 school, Echo Horizon focuses purely on elementary education.
We are elementary school experts who concentrate on the important developmental stages of childhood. We do not have to deal with or become distracted by the angst of middle schoolers (who of course are beautiful in their own unique ways!). We keep our school safe and free of the complex influences that come with having middle- and high-school students on the same campus. When you walk around our school, you feel the joyful engagement that comes from an environment that is focused 100% on the needs of young children.
We encourage our children to come to school ready to learn, play, laugh, and be their authentic selves. We love the outfits they choose, the pictures they draw, the games they invent, the questions they ask. Their curiosity inspires us. We are never, ever bored and every day we relish experiencing the unexpected. Young children are curious and we are committed to nurturing that curiosity and not stifling it with right answers and rote memorization. Our teachers love to make learning fun and engage through play, imagination, and dynamic activities. I am deeply saddened by so much research that shows that schools today are dull and lifeless places that get in the way of creativity. In the words of Dr. Tony Wagner, "students spend their school hours bored, covering irrelevant material, doing mindless tasks, taking far too many standardized tests, and having the creativity and innovation schooled out of them." Sir Ken Robinson, in one of the most-watched TED talks of all time, claims that "schools kill creativity" and argues that "we don't grow into creativity, we grow out of it. Or rather, we get educated out of it." That is clearly not the case at Echo Horizon, where our students bound through the doors each day, excited for what a day in our classrooms, in the lunchroom, and on the yard will bring.
In our Pre-K–6 environment, our elder scholars have the opportunity at a younger age to be role models, mentors, and leaders. They know their voices matter and they actively share their ideas with the adults in the building. Our 5th and 6th-grade scholars have a real responsibility as buddies to our Pre-K and K students, and as admission ambassadors. They lead assemblies and all-school lunches, they run service-learning opportunities, and they are role models on the sports fields and courts. They take these jobs seriously and we seriously believe in their ability to lead. We hold them accountable for this leadership, give them feedback, and have high standards. Time and time again, the middle schools to which they matriculate comment that Echo Horizon students are wise beyond their years, mature, creative, and know-how to advocate for themselves. With all they do as leaders, it's no surprise that they adapt so well at their new secondary schools!
The final benefit is one that is not directed at our students, but rather at the parents. As a pure elementary school, parents are fully part of the experience. They are welcomed on campus and we love having them around. Parents, you don't need to sneak on campus and hope that we don't see you. Middle schoolers may not want you around, high schoolers definitely don't want their parents around, but elementary schoolers—they LOVE seeing you, and so do we! At Echo, parents can fully immerse themselves in activities and events; they make our school a better, more enriching, and vibrant place. Echo Horizon is their home too and we couldn't imagine it any other way.
Thank you for our parents being such an integral part of this amazing Pre-K—6 community. We look forward to more wonderful years together!
______________________________________
1. "Students spend their school hours bored, covering irrelevant material, doing mindless tasks, taking far too many standardized tests, and having the creativity and innovation schooled out of them. Our focus shouldn't be to give all kids equal access to the same bad education. We need to reinvent education and give all kids a fighting chance in life." Tony Wagner and Ted Dintersmith, Most Likely to Succeed: Preparing Our Kids for the Innovation Era, Simon and Schuster, 2015, p. 58.
2. Sir Ted Robinson, "Do Schools Kill Creativity?", Apr 25, 2018, https://www.ted.com/talks/sir_ken_robinson_do_schools_kill_creativity