Reflections on Our Educational Philosophy by Peggy Procter
Posted by Peggy Procter on 10/11/2019 11:15:00 AM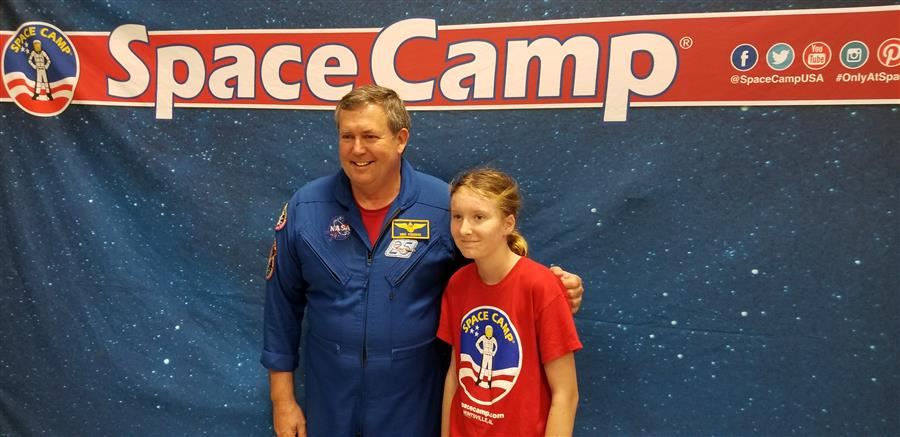 Despite the fact that I have been back at work for almost two months, I continue to savor a little bit of summer, still hanging out on my balcony in the evenings and going to bed a bit too late. I wanted you to know that I will accept no accusations of procrastination as you think, "What took you so long to write this opening blog, Peggy?" Deep reflection takes time.
Over the summer months, we take time to reflect on learning and education as we watch our children's routines and learning environments change. Summer is filled with lessons and growth, but it looks and feels different from the traditional school year schedule. Sidney had lots of fun and learning this summer, but there was one very powerful learning experience that really inspired her—a trip to the NASA Space Center in Huntsville, Alabama, for a weeklong Space Camp. Sidney has been obsessed with space for as long as I can remember, and going to Space Camp was a dream come true. Having never studied space myself, nor been to Alabama, I had no idea what Sidney would encounter. What she experienced over the course of the week was truly impressive—a collaborative, team-based learning environment where students were treated like aspiring astronauts. They were invited to solve real problems that exist for space professionals, challenges where their decisions could mean life or death if the mission was a real one. Sidney's team of 15 young scholars was challenged with leading a mission to the International Space Station. Sidney was assigned the specific role of being a payload specialist, and she and her teammates made every decision about docking and landing their rocket without the support of any adults. They had successes and failures along the way, many of them due to their ability or inability to effectively communicate and resolve disagreements.
So much good can come when we give students the skills and dispositions they need to think deeply and critically, and then get out of the way. Getting out of the way isn't always easy for us as educators and parents, and it often means that our children will face roadblocks and struggles, but this is where they truly learn and the learning sticks. And this, I believe, is something that we do exceptionally well at Echo Horizon, and support via our well-thought and inspirational best-of-both-worlds philosophy and curriculum.
Here is how we define the best-of-both-worlds educational philosophy and curriculum:
At Echo Horizon, our best-of-both-worlds curriculum combines the strongest structures of traditional education with the best researched and evidence-tested innovation. We carefully assess each developmental stage and the needs of each individual student as we build the optimal learning environment for our scholars. We remain open-minded and flexible with our approaches while also understanding that some skills must be mastered as building blocks for deeper learning.
Our best-of-both-worlds philosophy is supported by the research of experts in the field of education. These experts guide our thinking and our pedagogical decision-making. One overarching theme that our changing global world has taught us is that the skills our children need to succeed are quite different from the ones needed when we were in school. The educational system put in place during the Industrial Revolution may have served us, but it no longer serves our young people. This reality forces us to evaluate and adapt both our definition of success and the dispositions we need to teach and practice with our young people.
In the words of Dr. Denise Pope of Stanford University, "our

current fast-paced, high-pressure culture works against everything we know about healthy child development. While there is content that must be mastered, our singular focus on results has led to a lack of attention to other components of a successful life—the ability to be independent, adaptable, ethical, and motivated critical thinkers."

Dr. Tony Wagner posits that to create the next generation of innovators and changemakers, we must not "double-down on outmoded, formulaic solutions—but embrace the principles of play, passion, and purpose."

Children need time and space to wonder and discover, make mistakes and try again and again, and be accountable for their own learning (not just do as they are told). It's our duty as educators to provide children with the conditions under which they can be challenged, find joy, and explore the world around them. Why do so many children dread school and count the minutes until it is over? Because we fail to create dynamic spaces where learning comes to life.
This year, our eldest scholars, the sixth-grade students, will embark for the first time on an elective entitled "Purpose Learning," which gives them time and space to consider and act upon their interests, their passions, and the impact they can have on our community and our world. Our youngest scholars, the Pre-K and K students are using literature and field trips to explore what community means and how they might become contributing positive members of the Echo Horizon and Culver City communities.
At Echo Horizon, we are committed to creating these "dynamic spaces where learning comes to life." I hope that you all had wonderful summers (and Septembers and Octobers!) filled with learning, reflection and growth. We commit to continuing that growth for you and your children in diverse and engaging ways!
__________________________________
1 Pope, D., Brown, M., & Miles, S. Overloaded and Underprepared: Strategies for Stronger Schools and Healthy, Successful Kids. John Wiley & Sons, 2015.
2 http://www.tonywagner.com/