On Loss, Love, and Kindness
Posted by Peggy Procter on 12/11/2018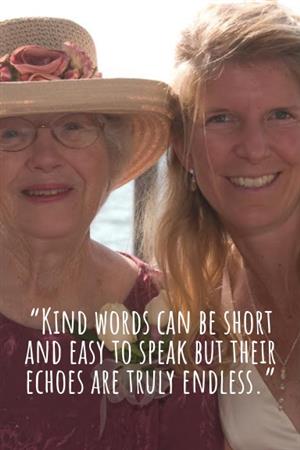 On October 24 in Catalina, after a long and beautiful day of kayaking, hiking, and enjoying our fifth graders' company, I stared at a glorious California full moon. I wasn't sure why, but that moon felt magical, meaningful, and important. As I looked up at the gorgeous moon, little did I know that my mother-in-law, Elaine Johnston, was at that exact moment making her journey from life to death. When I learned of her passing, I felt sad that I hadn't been with John by her side at her home. But that thought was fleeting because I knew in my heart that I was exactly where she would want me to be: by the side of her youngest granddaughter and the 29 other beautiful fifth-grade children that I consider mine on their journey of growth and exploration.
Elaine was one of the kindest people I have ever known. She was deeply religious—her faith guided who she was and everything that she did. In my fourteen years of knowing her, she was always gracious and welcoming, thoughtful and sweet. Honestly, she never once raised her voice, not even when her precious son was being difficult. I certainly can't say the same! Born in Chicago in 1923, she was the first in her family to go to college. She taught math to high school students until she married Thomas Johnston and went on to have and raise five children. John was the only boy and the youngest by many years, so Sidney was her late-in-life gift, the seventh and final grandchild, whom she loved with all her heart. She and Sidney spent many lovely days at her home by the San Francisco Bay, reading books, playing piano and dominoes, and feeding peanuts to the blue jays who frequented her rose-filled patio. The two things she valued most were her family and her church and thankfully, she spent her final days surrounded by family and the parishioners of St. Hilary's Church. The priest who spoke at her service shared a story of a unique gift Elaine had sent to him last Christmas—a big box of Omaha steaks—and a card that wished him to enjoy this gift in the company of loved ones.
As the world around us gets more chaotic, more unkind, and less tolerant, I will think often of my mother-in-law and channel her spirit of gentle kindness. In the words of Mother Teresa, "Kind words can be short and easy to speak but their echoes are truly endless." Elaine has affected me in endless ways and I hope to honor her memory through simple acts of love and kindness.
In loss one seeks community—a space of safety and warmth where one is surrounded by people who care. There is no better place to be at a time of sadness and grief than surrounded by the children of Echo Horizon, who like Elaine, make the world a better place through their joy and kindness. I see little glimpses of Elaine in all of their smiling faces. I will never forget returning to work on the Monday after the service to find a card in my box from a kindergartener, who likely knew nothing of my loss. It read, "Ms. Procter, Thank you for working so hard. You are so good at being Head of School!" Later that week, a third grader appeared in my office with a little gift, a lovely blue crayon she had made in the Makerspace engraved with my name and that of Echo Horizon. These simple acts have gotten me through sad days and help remind me to cherish and honor this gift of life. I am so grateful to our Echo Horizon children who continually lift me up and remind me of what it means to love and be loved! Please accept my heartfelt gratitude for all that you do to make Echo Horizon so beautiful and kind. Wishing you and your family much love, joy, and kindness this holiday season!