Awe, wonderment, and delight…
Posted by Peggy Procter on 7/16/2018 1:30:00 AM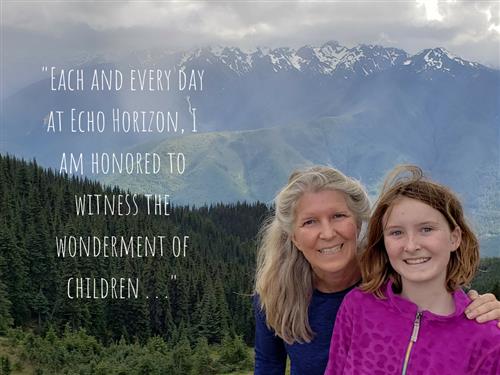 I recently returned from a lovely twelve days in the Pacific Northwest, which included the San Juan Islands, Seattle, and the Olympic Peninsula. As I sat quietly in my hotel room in Philadelphia, reflecting on both my travels and on the first day of the UPenn Character Lab conference, a realization about my vacation came to me: The simple moments of awe and wonderment brought me the most joy. Dan Heath, bestselling co-author of Switch and Made to Stick, spoke to us today about his most recent book, The Power of Moments. His research and insights on how moments matter and have the power to change us inspired this "aha" moment of reflection. I'd love to share with you my three most memorable moments of awe and wonderment from the Olympic Peninsula.
The first occurred in the beautiful Canadian waters off the San Juan Islands. My biggest dream for this trip was to see orcas in the wild. For the first few days, I kept saying to John and Sidney, "Find me an orca!" (I sensed they were a bit fatigued by this broken record.) Sadly, due to the recent decline in the salmon population, which is their primary source of food, orcas are struggling to survive. About an hour into a boat trip, the ship took a sharp turn and sped up— had the captain seen or heard of something? And then, there they were, a group of about seven or eight orcas frolicking in the cool waters surrounding our boat! It was hard to know where to look first and I didn't want to miss even a single glimpse. I was overwhelmed and overjoyed by the magic of the moment and honored to be in the presence of such beauty. I will never forget this gift.
A second moment of awe and wonderment occurred at Chihuly Garden and Glass, a museum in Seattle. A friend recommended that I visit this fabulous place, and I admit to knowing very little about the artist, the renowned Pacific Northwest glassblower Dale Chihuly. From the moment I stepped into the first exhibition room, I was blown away (no pun intended!). Chihuly himself states, "I want people to be overwhelmed with light and color in some way that they've never experienced." This was certainly the case for me. Each unique room held vibrant pieces in strong colors that took my breath away. Chihuly succeeded in creating indescribable moments of awe and wonderment for me.
A third powerful moment came about during a hike up the cold and dramatic terrain of Olympic National Park at Hurricane Ridge. Bundled in our thick fleeces with rain gear in our packs, we trudged up Hurricane Hill with the wind blowing and clouds threatening, surrounded by peaks of snow. As I glanced down to protect my face from the wind, I was greeted by hundreds of colorful wildflowers. I felt in awe of their strength and beauty. How did they survive in this harsh environment? They were tiny, gentle, and bright in contrast to the commanding peaks of the Olympic range. Awe and wonderment abounded.
In a Huffington Post blog titled, A Sense of Wonder, writer Mary Paleologos reminds us that there is no better way to witness wonder than through observing children. Paleologos states, "A child's whole world is viewed through the eyes of wonder and excitement. A child has no judgements of why things are so, but rather a child is in awe of life and views life through innocence, purity and curiosity." She continues, "Their sense of wonder is an innate quality they are born with and navigate through their young life seeing the world with much amazement." Each and every day at Echo Horizon, I am honored to witness the wonderment of children—as they learn to read, create beautiful art and music for the first time, grow gardens, conduct science experiments, and learn new things from and about their multicultural and diverse friends and teachers.
Socrates said "wonderment is the beginning of wisdom." We watch our young scholars building their knowledge and growing their wisdom and understanding right in front of us. How lucky we are to spend our days with them! As adults, I'm afraid we risk losing our sense of wonder as our egos, desire for success, and need for control get in the way. This summer trip was a reminder for me to never lose the sense of awe and wonderment that keeps me young, inspired, and grateful. We owe it to our Echo Horizon children to model wonderment and to wonder with them. They inspire us with their natural curiosity and they deserve to be surrounded by curious adults who wonder freely.
Thank you to my Echo Horizon scholars and to the natural world—for continually reminding me of the importance of moments of delight, awe, and wonderment. May you and your families be overjoyed and awed this summer too!