Return to Headlines
Girls Club Charity Carnival a Success!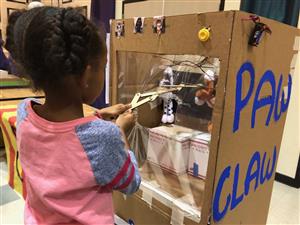 Girls Club Charity Carnival a Success!
The fifth annual event collected record-breaking funds for wildfire relief.
Our Girls Club—a small, homegrown after-school class that focuses on women leaders and innovators—is composed of Grade 2–6 Echo Horizon students and led by Ms. Alicia Camacho. Together, they recently held their fifth annual Charity Carnival. "Ms Camacho led the students in a conversation about possible organizations to support for this year's carnival. While their original idea was to find a local organization that supported girls, they refocused after the wildfires struck California and asked to raise funds to support the victims of the fires," notes Director of Community Affairs Jennie Willens. Girls Club decided to donate the funds raised to the Global Giving: California Wildfire Relief Fund. And did they have funds to donate! In just 45 minutes, they raised over $400—the highest amount in the event's history!
Ms. Camacho has led Girls Club for a long time, and even developed a Girls Club Jr. for younger students due to increased interest in the club, whose motto is "Try, Learn, Grow." Current and former members are confident, hardworking contributors in various school committees, sports teams, service efforts, and clubs. "Girls Club sends a powerful message: Girls can do anything! Our girls immerse themselves in what it means to have purpose and to be change makers," says the Director of AfterSchool Cathleen Wolff.
The members began engineering their carnival games in October, designing and adding new elements each week. "I like the Girls Club Charity Carnival because the process is so fun—you get to decide the game, help the group out, and it's fun seeing other people liking our game at the carnival!" says a third-grade scholar and club member. Her parents have seen their child's confidence bloom: ". . . we love how the Girls Club Charity Carnival teaches the girls entrepreneurial skills while doing social good. The creativity and enthusiasm we see each year reminds us of why we are proud to be part of the Echo community."
Girls Club instructor Alicia Camacho is still taken aback by the growth and support of both clubs. She remembers when the small group of founding members of the carnival had the idea to build games from recyclable materials and sell twenty-five cent tickets to play because they wanted to raise money to help others. The idea, price, and mission of the carnival still remains the same. "When I think back to my first group of five members, and now what the Girls Club Family has grown to be, I am still stunned and appreciative," reflects Ms. Camacho. "Girls Club members are given the opportunity to be leaders. Leadership roles are not all alike. For the carnival there are organizers, designers, and engineers. All are important and each is one piece to the greater whole. Every girl feels accomplished and valuable because without each girl's contribution, the end result couldn't happen for the team. It's more than just a carnival event, it's a process of self-fulfillment for the girls. I am so lucky to be a part of those moments." The Girls Club is grateful for the support they receive from the entire Echo Horizon School community each year and we are thankful for their dedication and hard work.