Return to Headlines
APPLE DISTINGUISHED SCHOOL TOUR FOR EDUCATORS
Echo Horizon School hosted 30 educators representing 16 schools from the Southern California area, including Administrators, Technology Integration Specialists, and Teachers, on May 5. They came to learn more about how our students and teachers are using technology to engage in critical thinking, collaboration, and publishing and how Echo Horizon School students develop skills in inquiry and innovation through our i2 program. The day began with a tour of our classrooms ranging across the grade levels and Centers of Inquiry and Innovation. Throughout the tour, our visitors saw kids and teachers engaged in meaningful learning experiences supported by technology. The kids impressed our guests with their poise and confidence in speaking to adults and their comfortable and seamless use of technology.
Following the tour, the team of visiting educators gathered in the auditorium to learn more about our Inquiry and Innovation program. Director of Curriculum & Director of Technology Elaine Wrenn, an Apple Distinguished Educator, gave a presentation about how the program was developed and implemented this year and four of our students, sixth graders Owen W and Zander P and fifth graders, Nika B and Eden H, gave a preview of their upcoming i2 Talk on their project, sharing how they developed their ideas and prototypes, the challenges they faced and how they overcame them, and what they learned from the process.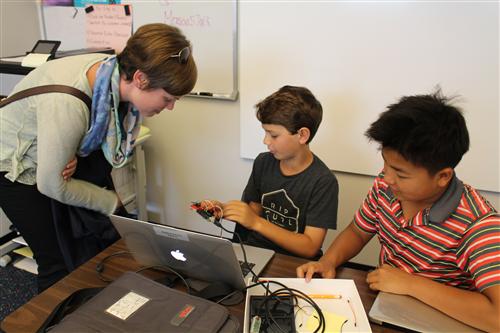 At the end of the presentation, Kevin Walsh from Apple Inc. shared how impressed Apple is with the work we are doing at Echo Horizon, how we are using technology to support pedagogy in ways that make learning meaningful for kids, and commented on the importance of the time we are giving our students for inquiry and innovation. The visitors left energized with inspiration and ideas to bring back to their schools.