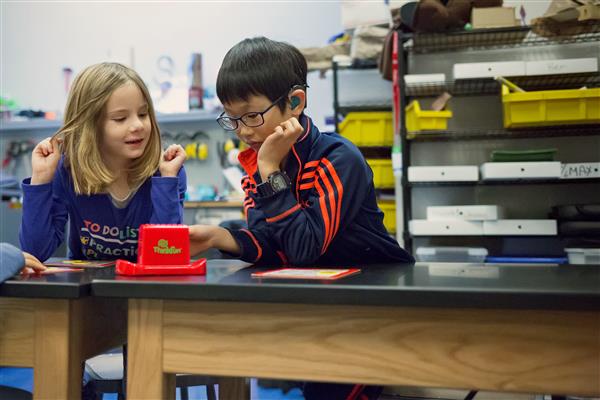 History

Echo Center was founded in 1970 as Oral Education Center by parents, educators, and interested community leaders with the goal of integrating deaf and hard of hearing children into the hearing world by teaching them to listen and to speak.

In 1983 Echo Horizon School, a mainstream environment in which students with hearing loss can work and learn alongside hearing peers, was established. The Echo Foundation Board of Trustees governs the financial, administrative, and educational operation of the school. It is a California not-for-profit corporation.

In 1996, the school site underwent a complete renovation and was rededicated officially as Kent H. Lansdberg Echo Horizon School and Carol L. Proctor Echo Center. The school is publicly known as Echo Horizon School.

Mission Statement

The mission of Echo Horizon School and its Echo Center is to educate children in a collaborative environment that is academically challenging and developmentally appropriate. We actively promote mutual respect, individual responsibility and ethical action. The Echo Horizon graduate is an inquisitive and critical thinker who brings creativity, kindness and self-reliance to the lifelong journey of learning.

Core Values

Mutual Respect

Listening to and learning from the ideas of others, even if they conflict with one's own notions.
When disagreeing, doing so agreeably.
Treating everyone - students, teachers, other members of the school community and the community at large - with kindness and consideration.
Collaborating in our learning and teaching.
Emphasizing the positive and supporting others as they pursue their goals.



Inclusiveness

Embracing diversity as an opportunity to learn about what makes us all human.
Understanding that all students have unique talents and contributions.
Fostering a sense of kinship among all members of the community.
Ensuring that every student, regardless of individual gifts and needs, has the opportunity to learn the concepts and skills that he or she is next ready to learn.



Self Reliance

Assuming responsibility for learning, as well as for interpersonal relationships.
Taking the initiative to solve problems.
Persevering when faced with obstacles.



The Best Educational Practices

Evaluating the latest educational research so that the faculty and administration continue their professional development.
Maintaining a curriculum that flows seamlessly from grade to grade and adheres to a consistent philosophical approach.

Since our founding in 1983, we have developed a balanced and dynamic approach to education by fostering a warm, nurturing environment, providing a rigorous academic foundation, and emphasizing our core values of mutual respect, inclusiveness, self-reliance, and best educational practices.

To promote inquiry and innovation, we provide the necessary opportunities for students to explore, discover, and create. We place a strong emphasis on ethical behavior and appreciation for diversity, creating a warm, heterogeneous community that fosters open-minded thinking and tolerance. Our students learn to be independent as they take advantage of opportunities to make choices and decisions. The fact that 10% of our children are deaf or hard of hearing has a profound and positive impact on all Echo Horizon School students when it comes to acceptance and appreciation of differences in others.

Finally, we believe in the importance of giving all children an opportunity to be truly outstanding, whether that's in the classroom, in the arts or on the playground. The result is an environment where students respect and admire one another for individual strengths.

Our Educational Administration and Faculty

Administrative Team:

Head of School
Head of Echo Center
Director of Admissions
Director of Technology/Director of Curriculum
Dean of Students/Director of Extended Day/Director of Facilities
Director of Business and Finances
Director of Advancement

Faculty:

8 DHH Credentialed Co-Teachers
13 MSI/SSI Credentialed Co-Teachers
1 Art Specialist
1 Music Specialist
1 Dance/Theatre Specialist
2 Physical Education Specialists
1 Librarian

Certification

Echo Center is certified by the California Department of Education as a Nonpublic School.

Accreditation

Echo Horizon School is accredited by the California Association of Independent Schools and the Western Association of Schools and Colleges.